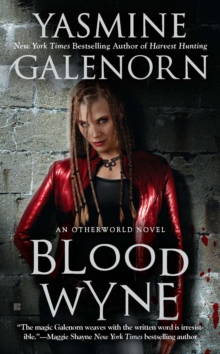 Blood Wyne : An Otherworld Novel
Paperback
Information
Format: Paperback
Pages: 320 pages
Publisher: Penguin Putnam Inc
Publication Date: 01/02/2011
Category: Romance
ISBN: 9780425239742
Free Home Delivery
on all orders
Pick up orders
from local bookshops
Reviews
Showing 1 - 3 of 3 reviews.
Review by Kr15tina
16/06/2015
If you haven't read anything by Yasmine Galenorn I really suggest that you do! This is book 9 in the series. A word of warning to readers, these book have NO closed door policy for the characters love scenes. The sisters have multiple partners and there is a same sex relationship. If you have no issues with either of these they are fantastic romantic urban fantasy reads that keep you wanting more!What I LikeCharactersMenolly: I am loving her more and more as the series develops. I like that she is slowly learning how to let go of her violent tragic past and blossom into her sexual nature.Roman: He is the epitome of sexy, dark, alluring vampire. He has a caring nature only if he allows you to see it, but it is best not to cross him or there will be grave consequences. I am looking forward to seeing what will develop with him and Menolly. Vampire NationIn Menolly's book we get to learn more about the vampire nation and just how strong their influences are. They can be great allies if you play by their rules or very deadly if you don't. I can't wait to find out what part they will play in the coming battle with Shadow Wing.LocationThe great Seattle Washington!! I love that these books are located is my home state, it is very fun to read about some of the places that are actually truly there like the Seattle Underground (which I have yet to go, I haven't done all those touristy things).What I MissedSince the books rotate between each sister, I always do miss getting their POV for that scene.RecommendationGreat for people who love the fae, dragons, shifters, witches, vampires and all those great fantasy characters. This is book 9 in the series of at least 12, but probably more if the readers what it (hell yes I do!!).
Review by Krumbs
16/06/2015
Just another installment in the series. Moved quickly, a sold adventure, still not sure where the series is headed. Thought it would be over by now!
Review by wickedshizuku
16/06/2015
Out of all of the Sisters of the Moon series I look forward to the books about Mennoly. It seems that her books focus on the task at hand; instead of obsessing over the next time she's going to be jumping in the sack. <br/>I like the objective of the sisters looking for the spirit seals/stones. The beasties are a great factor, but it feels like Galenorn opened up a copy of the Encyclopedia of Magical Creatures. Now after getting so far into the series I am seeing the comparisons to the show Charmed now. I think that the differences are that the sisters are from the world of the Fae(also known as Otherworld), and are all different creatures. Maybe it's the way Mennoly portrays the vampire, that they are monstrous predators and not sparkly pedophilia-cs; that makes her story so much more convincing. If I'm able to find the rest of the series I'll continue, but they aren't on the urgent to be read list. That's all for now folks...<br/><b>Cheers Pretties!</b>