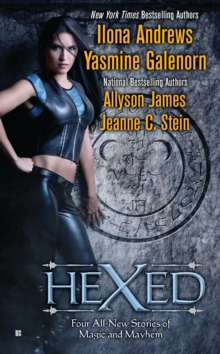 Information
Format: Paperback
Pages: 330 pages
Publisher: Penguin Putnam Inc
Publication Date: 07/06/2011
Category: Romance
ISBN: 9780425241769
Free Home Delivery
on all orders
Pick up orders
from local bookshops
Reviews
Showing 1 - 5 of 14 reviews.
Previous | Next
Review by Squeex
16/06/2015
For me, historically, an anthology is one strong story, one reasonably good and the rest rather weak filler. I was highly pleased to find that HEXED happily underexceeded my historical expectations....each and every novella smoked!I was introduced to two new-to-me authors, in that I've heard of them, but not read as yet, Allyson James and Ilona Andrews. I have added their books to the WWBL because of their novellas in this book. Each one kept me up way past my bedtime so I could see what else was going to happen to the characters. Especially in Allyson James story, 'Double Hexed'. A multiple of supernatural characters working together to figure out who or what was keeping them trapped inside their hotel. I've read Yasmine Galenorn's Sisters of the Moon series in the past, but meandered away for some reason. I will be going back after reading 'Ice Shards'. I like how Yasmine draws other characters into the main story, not just the sisters. I've been fascinated with Iris' place in the household and her backstory is uniquely told.And I absolutely adore Anna Strong's story as written by Jeanne Stein. She's tough, family oriented, and trying to learn her place in the world as a vampire and as The Chosen. I am highly intrigued to read what is going to happen next since it looks like Anna might have a new love interest. YAY!Thank you, Jeanne Stein, for giving me this signed ARC to enjoy and have on the keeper shelf to dig into again. HEXED comes out 7 Jun. Go get this highly excellent anthology!!Five sparkly smokin' diamonds......
Review by pollywannabook
16/06/2015
Review courtesy of All Things Urban FantasyMagic Dreams by Ilona Andrews (Kate Daniels #4.5)A minor character in the Kate Daniels series, Dali proves more than ready for her own series in Magic Dreams. She couldn't be more dissimilar from Kate, yet she displays the same strength of character and bravery that I've come to expect from the women in this series. She's a tiny, visually impaired, Indonesian woman who shifts into a white Tiger. As a human, she's about a physically imposing as a kitten and shifting to her tiger form isn't easy for her. But she does know how to use magic, sometimes. And in Magic Dreams when her Alpha Jim, the man she secretly loves, shows up asking for help, she doesn't hesitative even when she learns that she may have to sacrifice her life for Jim's. Kate fans won't want to miss this story and it's a perfect introduction for new readers as it has one of the best and most concise explanations for the world building in this series. The dialogue is as sharp and clever as ever, the Japanese mythology borrowed for this story is integrated very well, and the romance between Dali and Jim subtly beautiful. By far the best story in HEXED.Sexual Content: Kissing Rating: 4/5Ice Shards by Yasmine Galenorn (Sisters of the Moon #9.5)My only exposure to Galenorn's Sister's of the Moon (SotM) series was in the anthology INKED, so I'll admit near total ignorance when it comes to this world and these characters going in, and I feel pretty much the same way having read Ice Shards. The chronology jumps all over the place and the writing struck me as lazy and uninteresting. Lots and lots of characters and yet not one grabbed me. Iris travels with her friends (including SotM main character Camille and one of her husbands) to find out if she committed a crime she can't remember. They travel, talk to people, travel, have flashbacks, travel etc. until the last 3 pages when Iris finally gets answers. I suppose fans of this series may enjoy all the cameos, but as a newbie, this story just turned me off the whole series.Sexual Content: References to sex Rating: 2/5Double Hexed by Allyson James (Stormwalker #3.5)Double Hexed is the longest story in HEXED (and I believe that's Janet on the cover) and makes full use of its extra pages. Like the previous story, there are lots of characters (some stronger than others), but unlike the previous story, they each justify their inclusion in this specific story. Stormwalker Janet and her dragon shifter Mick are the leads and we learn about each character as they interact with them while trying to break a hex that has trapped them all in Janet's hotel. This actually would be a great introduction for new readers who want to try this series featuring Native American mysticism mixed with more conventional paranormal tropes and a uniquely imagined world Beneath our own where demons and evil have been trapped. Janet and Mick have a heated romance and this story is the steamiest in the anthology.Sexual Content: References to homosexuality. A brief sex scene Rating: 3/5Blood Debt by Jeanne C. Stein (Anna Strong Chronicles #6.5)This is another series I'm largely unfamiliar with (I've only read the first book), but I didn't have any trouble jumping in to this story. Anna and her bounty hunter partners are tracking a Skip when a series of events lead her to stand trail for her life. This setup provides Stein with an opportunity to highlight certain key events from Anna's life (how she was turned into a vampire, how she ended up as a bounty hunter, and how she finally killed her nemesis etc). It works well has an intro for new readers, but doesn't dominate the story so that fans become bored. There is a romantic relationship that gets set up in Blood Debt that I imagine will get woven into future books, so series devotees won't want to miss seeing how it began.Sexual Content: A couple brief sex scenes Rating: 3/5
Review by blodeuedd
16/06/2015
Magic Dreams by Ilona Andrews (Kate Daniels #4.5)In this one Dali and Jim fight together to bring down a Japanese demon. Dali is not a scary shifter, but she does know her magic. Jim is an alpha and they have always been at odds. That is you know they both like each other but never get together. So therefore I looked forward to reading this book knowing it would finally happen. Interesting mythology and in a way I did not feel like you had to have read the Kate Daniels series to understand the novella. Of course by having read them you would have met these two before and wanted the same thing I wanted. I enjoyed this novella.Ice Shards by Yasmine Galenorn (Sisters of the Moon #9.5)I never ever come across Finnish mythology and here I did. Iris Kuusi is a housesprite from Finland and she is going to the Northlands to find out if she killed someone 600 years ago. Ok I was a bit lost here at times, not really lost, but it was the fact that there have been 9 books in this series about three sisters. And this character who I guess is a minor character there. Also, they would not have had last names that far back and some names in it would not have been used. Still it was interesting in it's rich mythology. There seems to be a lot going on in that world (worlds).Double Hexed by Allyson James (Stormwalker #3.5)This one was my favourite because it really made me want to read the series behind it. Janet and her friends are trapped in her hotel because someone has put a hex on it. I found myself wanting to read more about Janet and her dragon lover Mick. Coyote was funny, the vampire seemed nice (when not crazed) and the rest of the cast interesting. It's a world I want to read about and book 1 made it to my wishlist.Blood Debt by Jeanne C. Stein (Anna Strong Chronicles #6.5)Yes 6 before this one but I never felt at loss. I got a bit of explanations what Anna was and what she had been through. In this book she stands trail for something she has done. And that made me know about her history. I would definitely be interested in reading her story from book 1. The writing and story was good and I do like kick-ass UF heroines.Conclusion:Interesting novellas that made me want to read more about the worlds presented. And as always some better than other.
Review by thewalkinggirl
16/06/2015
I quite enjoyed 3 of the 4 stories, which is pretty par for the course for me with this type of anthology.Magic Dreams / Ilona Andrews - 4 starsThese authors are such otaku.Anyway, my fangirl self says: squee! I'm now a confirmed Jim/Dali 'shipper. More, please!My more analytical side noted more cultural/mythological info-dumping than I'm used to from IA. Also, if you haven't already read at least book 3 in the series (<i>Magic Strikes</i>), you're going to miss a lot of the characters' backstory.Still, squee!Ice Shards / Yasmine Galenorn - 1 starI had like a two page diatribe about why this story bugged me, but the short version: it's boring and clunky. "tears of sisterhood"? FFS.Double Hexed / Allyson James - 4 starsBrain candy. Mmm, candy. Features the normal cast of characters, this time with their impulses magically set on overdrive. You'll be fine with this even if you hadn't read any others in the series.Blood Debt / Jeanne C. Stein - 4 starsFor some reason, I just noticed that this series is told in first person present, which normally bugs the crap out of me, but I'm ok with it here. Anyway, this particular tale is kind of a supernatural take on a courtroom drama, so there's a bit less action than there normally is. It's also less melancholic than the first few books in the series (which I'm ok with. There's even some humor this time - the <i>Angel</i> reference made me giggle like a fool). It did feel a bit rushed in places, though, which I'll blame on the shorter form. This would be a fine introduction for those new to the world.
Review by SunnySD
16/06/2015
Four authors, four stories of curses foiled by magic wielding heroines and their companions. I'll be honest - I bought this for Ilona Andrews "Magic Dreams", which features shapeshifter Dali (the nearly blind white tiger) and the Pack's head of security, alpha, and all-around tough guy, Jim, facing off against a nasty, soul-sucking monster - not to mention a bevy of blackmarketeers. It doesn't disappoint, I only wish it had been longer!The remaining three stories are readable, but nothing special. All of them present action-packed episodes in the lives of what I'm assuming are established characters for their respective authors. I wasn't inspired to run out and find any of their full-length adventures.