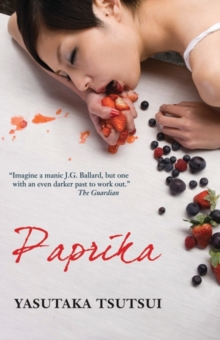 Description
Paprika - exotic, piquant, to be used sparingly. The eponymous heroine of Tsutsui's novel is the alter ego of brilliant and beautiful psychotherapist Atsuko Chiba, one of the leading brains in the Institute for Psychiatric Research.
An expert in the use of 'psychotherapy devices' that trap a patient's dreams and display them on a monitor, Atsuko is able to manipulate those dreams, even enter them, as an aid to psychoanalysis.
When treating private patients, Atsuko transforms herself into the guise of Paprika - a captivating girl of unknown age - to mask her true identity.As Paprika delves ever deeper into her realm of fantasy, the borderline between dream and reality becomes increasingly blurred.
All the more so when a colleague at the Institute develops a new device that allows the dreams of several individuals to be combined simultaneously.
With this, they enter dangerous territory - far from curing their patients, they could drive them insane.
Rich in humorous dialogue and ridiculous situations, replete with the folly of human desires, yet with an underlying sense of menace that 'all is not what it seems', Paprika could be described as the very pinnacle of Tsutsui's art.
Information
Format: Paperback
Pages: 350 pages
Publisher: Alma Books Ltd
Publication Date: 09/04/2009
ISBN: 9781846880773
Free Home Delivery
on all orders
Pick up orders
from local bookshops
Reviews
Showing 1 - 3 of 3 reviews.
Review by adpaton
16/06/2015
Yasutaka Tsutsui is one of the best known science fiction writers in Japan where his darkly satirical manner with taboo subjects makes him something of an enfant terrible: it was not until the release of director Satoshi Kon's anime Paprika, 16 years after the book was published, that the story was translated into English. Atusko Chiba is a psychiatrist who uses an illegal and highly secret technology developed by her morbidly obese colleague Kosaku Tokita to enter, analyze and manipulate patient's dreams, curing them. But when the dream therapy devices are improved, all hell breaks loose.Reality begins to unravel and merges with the dream world, causing chaos: to add to the dystopia the devices are stolen and cannot be destroyed. An interesting if slightly odd take on a near future scenario with a love story which, to Western eyes, if very strange indeed.
Review by littlesparrow
16/06/2015
Amazingly good. Tsutsui plays with your mind yet you don't feel robbed, you feel all the ups and downs as the story comes and goes and gets confusing, yet you will also understand somethings that the characters didn't and you will be left with questions that they never asked.<br/>I would surely recommend it (yes, not the best review, but to give a full extent review, for me, would be to try and spoil a flavor that only Tsutsui could leave in your mouth).
Review by AHS-Wolfy
27/08/2015
Kosaku Tokita and Atsuko Chiba have been short-listed for a Nobel Prize for their work in developing and using psychotherapy devices allowing an analyst to access and even enter and affect a patient's dreams. But it seems that someone at the Institute for Psychiatric Research may be intent on sabotaging their chances. Chiba, in the guise of Paprika, has been using the device to treat high-end businessmen and is asked by the Institute's president to help one of his friend's who's been suffering from a severe anxiety neurosis. As the technology is still only in the development stage then its use outside of the lab is illegal and with the increased press scrutiny may provide the opportunity the saboteurs require. When 5 of the 6 newest prototypes go missing maybe they also have the means as well. Can Chiba/Paprika scuttle their plans and prevent a catastrophe that misuse of the new devices may bring?I came to this book through the anime movie (unfortunately Satoshi Kon's last directorial feature film) and I'm glad I experienced them in that order. The film really helped me visualise the more surreal moments of the story towards the end of the book when <spoiler>dreamscape and reality merge</spoiler>. There are two main issues I had with this book. The first is what I assume is probably the translation. It is often stilted and doesn't flow all that naturally. The second, and less forgiving, is how much the use of sex and rape is used as a plot device. Pretty much all of the male characters want to have sex with Atsuko Chiba in one form or another, whether it's as a willing partner or not. Despite that, there's still a decent story in there with some interesting concepts that make the reader think. Because of this I would be willing to give the author a further try especially when another of his titles (The Girl Who Leapt Through Time) has also been adapted into an acclaimed anime movie. 3?'s
Also by Yasutaka Tsutsui