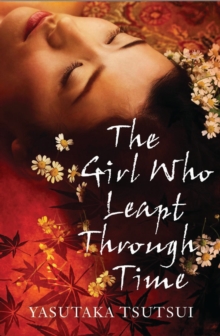 The Girl Who Leapt Through Time
Paperback
Description
One of Tsutsui's best-known and most popular works in his native Japan, The Girl Who Leapt through Time is the story of fifteen-year-old schoolgirl Kazuko, who accidentally discovers that she can leap back and forth in time.
In her quest to uncover the identity of the mysterious figure that she believes to be responsible for her paranormal abilities, she'll constantly have to push the boundaries of space and time, and challenge the notions of dream and reality.
Information
Format: Paperback
Pages: 200 pages
Publisher: Alma Books Ltd
Publication Date: 16/05/2011
Category: Science fiction
ISBN: 9781846881343
Free Home Delivery
on all orders
Pick up orders
from local bookshops
Reviews
Showing 1 - 3 of 3 reviews.
Review by julietearjerky
16/06/2015
I am an anime fan and although I've never seen the film, I was excited to read The Girl Who Leapt Through Time mainly because it was made into an anime movie. And of course, this was my first time reading Japanese literature so that added up to the excitement as well.<br/><br/>For starters, it was a short and quick read. I could've finished it in one day if I didn't have other things to do. The book also consists of two stories, although I didn't know it at first. <br/><br/>The first story, The Girl Who Leapt Through Time, is just your typical time travel story. It's about Kazuko, a third-year middle school student who accidentally acquired the ability to leap through time and space. Although other people would be delighted to discover they have such powers, Kazuko wasn't at all happy with it. She looked for the cause and wanted to get rid of these abilities because she did not want to be different. The plot is very simple and I think the only twist in the story is when Kazuko discovered where and from whom her ability to time travel came from, albeit indirectly. The pace is fast, not boring and I must say it's an okay read. I only wished the author did not make Kazuko and Kazuo's names sound so similar. It's a bit confusing sometimes. <br/><br/>The ending is a bit sad for me. I was looking for more. It was sad that Kazuko did not see that 'person from the future' again and that her memories of him were also erased. I would have wanted them to meet again, maybe when Kazuko's a bit older, you know, so they could be together. Although that's impossible, right? Because they live in different times. *sigh*<br/><br/>In the second story, The Stuff That Nightmares Are Made Of, is where my frustration started. I was like, "why did the story suddenly change?" I even thought that it's a continuation of Kazuko's story. But no, it was a totally different story. One I didn't really get. It's about Masako, a teenager who's afraid of heights and Prajna masks. She also has a younger brother who's a scaredy-cat, but Masako helped Yoshio conquer his fears so she thought she might as well conquer hers. There's not much conflict in this story. For a while I even thought it's horror. Until now I'm still not sure what it is, though. But I think what this story is trying to tell us is we all must at least try to face our fears. And that we should always be careful of the words we speak in front of children. We never know how they affect them.<br/><br/>I have some reservations about this book but I liked it still. If you're looking for a quick read that's still enjoyable, try this book. But if you want something a bit more complicated, this book is not for you.<br/>
Review by shanaqui
16/06/2015
Picked up in the Kindle sale, somewhat at random -- mostly because of the cover, which caught my attention. I knew something about this book being adapted into a manga or an anime or something, so I thought it might be fun. It turned out to actually be two quite short and unconnected stories. They're very simple, and the translation seems rather stilted -- it comes out sounding like a book written for children to read.<br/><br/>The first story is rather sweet, even if it is very simplistic and hand-wavey in its explanations. I liked the last part quite a lot, actually; it made me smile. The second story actually manages to be a little creepy here and there, and then immediately dispels it with an extremely rational explanation.<br/><br/>Not something I'd particularly recommend, I have to say, though I might give it to a child.
Review by jovemako
16/06/2015
It was a cute read. I picked this up because I really loved the anime and manga adaptions of this. For me this was a quick read done within a couple of hours (it's only about 200 pages long, using a lower reading level print. I'd place it at 8th-9th grade reading. Anyway, I did enjoy reading this story. Both stories had kind of a semi solid ending for both stories (since it's actually two stories- The Girl Who Leapt Through Time and The Stuff That Nightmares Are Made Of). I've got a copy of his novel of Paprika on my reading list for later and I'm sure the I'll enjoy that one too.