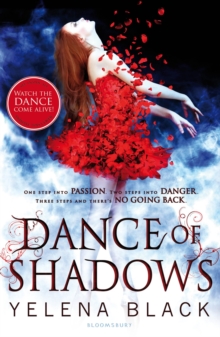 Dance of Shadows
Paperback
Description
Dancing with someone is an act of trust. Elegant and intimate; you're close enough to kiss, close enough to feel your partner's heartbeat.
But for Vanessa, dance is deadly - and she must be very careful who she trusts . . . Vanessa Adler attends an elite ballet school - the same one her older sister, Margaret, attended before she disappeared.
Vanessa feels she can never live up to her sister's shining reputation.
But Vanessa, with her glorious red hair and fair skin, has a kind of power when she dances - she loses herself in the music, breathes different air, and the world around her turns to flames . . . Soon she attracts the attention of three men: gorgeous Zep, mysterious Justin, and the great, enigmatic choreographer Josef Zhalkovsky.
When Josef asks Vanessa to dance the lead in the Firebird, she has little idea of the danger that lies ahead - and the burning forces about to be unleashed . . .
Information
Format: Paperback
Pages: 384 pages, no
Publisher: Bloomsbury Publishing PLC
Publication Date: 01/02/2013
Category: Fantasy
ISBN: 9781408829974
Free Home Delivery
on all orders
Pick up orders
from local bookshops
Reviews
Showing 1 - 2 of 2 reviews.
Review by shelleyraec
16/06/2015
Dance of Shadows is a young adult novel introducing Vanessa Adler, a sixteen year old ballerina who has been accepted into the elite New York Ballet Academy. For Vanessa, her dance talent is simply a means to end. Three years ago her older sister, Margaret, vanished from the Academy and Vanessa is determined to find out what happened to her. Between punishing classes and relentless rehearsals, Vanessa discovers that Margaret is not the only girl to disappear without a trace from the school, and as competition for the lead in the end of year performance, The Firebird, intensifies, Vanessa is increasingly sure that the Academy is hiding deadly secrets.With an intriguing premise promising mystery, suspense and sublime dancing, Dance of Shadows is sure to appeal to the girls who once dreamed of becoming a prima ballerina. The plot seems to draw on elements of films like Black Swan and The Red Shoes, binding them into an intriguing, original tale of a horrifying occult conspiracy. I did think there were some minor flaws in the plot, threads that seemed to be conveniently dropped (like Vanessa's research project and her discovery of Elly's note) but nothing I couldn't overlook.Beneath the innocent facade of the elite school lurks a sinister atmosphere, one the author allows us to glimpse only periodically, increasing the readers discomfiture as the story progresses. Black builds the tension slowly, pacing the novel as to multiply the suspects and widen the depth of the conspiracy. The reader is kept off balance just as Vanessa is, unsure what to believe or who to trust.Unfortunately I didn't find Vanessa a particularly strong character, distracted by the handsome Zep and the hard work required to dance the lead in the Firebird, she willfully overlooks some disturbing truths. She is either unable or unwilling to link Zep's unexplained absences, Justin's vague warnings, the unexpected departure of Elly and the strange behaviour and possessions of lead choreographer, Josef,I also found many of the other characters fairly one dimensional, Vanessa's classmates are interchangeable, though TJ at least has some attitude and Justin's man of mystery act only carries him so far.I loved the paranormal elements of the novel, the idea of a dance so perfectly executed it thins the veil between our world another. I can't reveal too many specific without risking spoilers but the concepts are interesting and suitably creepy.And I loved the dance, Black describes the movement of ballet beautifully, the graceful en pointe, the fluid arch of the back and the effortless extension of limbs.Dance of Shadows is the first in a trilogy that holds much promise and I will be interested in seeing how the story develops.Just a note: The publicity surrounding Yelena Black's debut novel, Dance of Shadows, has been unique, heavily utilising Facebook and book bloggers worldwide in a sustained campaign to promote it's simultaneous international launch. I was pleased to be part of such an innovative program and think Bloomsbury should be congratulated for their creative global approach to publishing.
Review by AmberFIB
16/06/2015
Dance of Shadows is just dull, for lack of a better term. The synopsis sounds great, and the concept is amazing. However, the execution is terrible. The pacing is off, the characters are one-dimensional, and the writing is sub-par. I started this book expecting a unique and intriguing novel and ended up bored to death and irritated. Vanessa is one of the dumbest characters I've ever read. Not to mention she has no personality. She insists on doing stupid things repeatedly when the answers are right there in front of her. She trusts the wrong people constantly, she can't figure out ANYTHING for herself, and to top it all off, she's obscenely bland. She is an awful character, and I found her impossible to relate to OR root for. I can't even remember most of the other characters names. Justin is also bland, and he doesn't stand out, and neither does Zep. Josef is pretty much a carbon copy of Justin and Zep. There is not a single character in this book that has a personality. The lack of character development is unbelievable. The pacing for this book is extremely slow. The world-building and place development are non-existent. The writing is awful, and the author seems to love the smell of sweat... yuck. Thinking about some of the supposed steamy scenes still makes me nauseous because of all the sweat sniffing and such. If I hadn't been to NYC several times, then I would have had no idea what the city looked like. Black tells us NOTHING about New York. I certainly didn't feel like I was there, which is probably a good thing, considering all the sweat. Overall, I'd recommend this book to my worst enemy, and that's about it. It's seriously bad. The only redeeming aspect is the concept, which the author completely destroys with the horrible writing, lack of character-development, and lack of world-building.
Also by Yelena Black