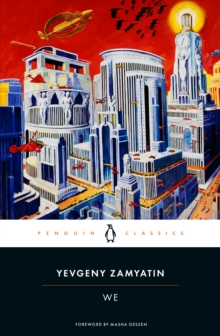 Description
A seminal work of dystopian fiction that foreshadowed the worst excesses of Soviet Russia, Yevgeny Zamyatin's We is a powerfully inventive vision that has influenced writers from George Orwell to Ayn Rand.
This Penguin Classics edition is translated from the Russian with an introduction by Clarence Brown.In a glass-enclosed city of absolute straight lines, ruled over by the all-powerful 'Benefactor', the citizens of the totalitarian society of OneState live out lives devoid of passion and creativity - until D-503, a mathematician who dreams in numbers, makes a discovery: he has an individual soul.
Set in the twenty-sixth century AD, We is the classic dystopian novel and was the forerunner of works such as George Orwell's 1984 and Aldous Huxley's Brave New World.
It was suppressed for many years in Russia and remains a resounding cry for individual freedom, yet is also a powerful, exciting and vivid work of science fiction.Clarence Brown's brilliant translation is based on the corrected text of the novel, first published in Russia in 1988 after more than sixty years' suppression.Yevgeny Zamyatin (1884-1937) was a naval engineer by profession and writer by vocation, who made himself an enemy of the Tsarist government by being a Bolshevik, and an enemy of the Soviet government by insisting that human beings have absolute creative freedom.
He wrote short stories, plays and essays, but his masterpiece is We, written in 1920-21 and soon thereafter translated into most of the languages of the world.
It first appeared in Russia only in 1988.If you enjoyed We, you might like George Orwell's 1984, also available in Penguin Classics.'the best single work of science fiction yet written'Ursula K.
LeGuin, author of The Left Hand of Darkness'It is in effect a study of the Machine, the genie that man has thoughtlessly let out of its bottle and cannot put back again'George Orwell, author of 1984
Information
Format: Paperback
Pages: 256 pages
Publisher: Penguin Books Ltd
Publication Date: 01/08/1993
ISBN: 9780140185850
Other Formats
Paperback from £5.99
EPUB from £2.99
Hardback from £46.75
Free Home Delivery
on all orders
Pick up orders
from local bookshops
Reviews
Showing 1 - 5 of 30 reviews.
Previous | Next
Review by ocgreg34
16/06/2015
A Russian masterpiece about a utopian society and those willing to rebel against it.
Review by louiserb
16/06/2015
Unlike the bleak environment that Orwell portrays, We is colorful and wonderous, full of enthusiasm for the New World Order - in parallel to the hopes and desires of the new Soviet Union - but at what cost taht belief?
Review by wendyrey
16/06/2015
Excelent piece of early science fiction, without the sexism that permeates much of the genre.Please read this.
Review by soylentgreen23
16/06/2015
Although it came before the others, Zamyatin's dystopian fiction sits somewhere between "Brave New World" and "1984." The British works were both, arguably, more accessible texts, and better received at the time of their publication; Russian interference blocked Zamyatin's work from a wider audience for a long period.Personally, I found "We" hard going. It was a rewarding read, but the prose too clouded in obfuscations to be truly enjoyable; I feel that a simpler, more direct style of writing would have better suited the story.
Review by DLSmithies
16/06/2015
The blurb on the back says this inspired Orwell's '1984', and the family resemblance is striking. Both as a novel and as a scathing critique of Stalinism, this is a brilliant book. I was gripped from start to finish, although I thought the opening chapters were the best. It's a really quick read, only a couple of hundred pages. Highly recommended.