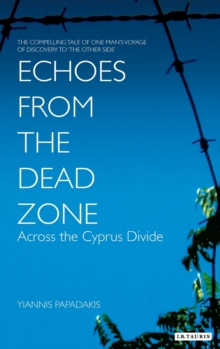 Echoes from the Dead Zone : Across the Cyprus Divide
Hardback
Description
In the space of a generation, Cyprus - the island of Aphrodite, goddess of beauty and love - has experienced an anti-colonial struggle, post-colonial chaos, internecine fighting and hatred, civil war, invasion, population displacements and physical partition.
The narrative of Cyprus' recent history has created numerous attitudes and prejudices which run deep but which have never before been explored on a human level.
Now for the first time Yiannis Papadakis, firmly planted in the Greek Cypriot world, sets out to discover 'The Other' - the much maligned Turks.
Papadakis decided with some trepidation to travek to Constantinople (to his Greek worldview it was still Constantinople) to learn Turkish.
There he discovered that actually it is Istanbul, and that Turkey is not the place of his once imagined demonology.
Armed with new insights he returned to Cyprus and delved into the two communities, locked in their mutually contemptuous embrace, to explore their common humanity and to understand what has divided them.
He focused on Nicosia where the people who used to live together in one neighbourhood found themselves separated by a 'Dead Zone', two armies and a UN force. His was a journey to the various sides of the Dead Zone and to the various zones of the dead, the realms of memory and history.
This book is the moving, sometimes humorous and always fascinating account of that journey.
Free Home Delivery
on all orders
Pick up orders
from local bookshops
Reviews
Showing 1 - 1 of 1 reviews.
Review by CyprophileBrit
16/06/2015
I would recommend this book to anyone interested in a deeper understanding of the "Cyprus Problem". Although that problem (currently the subject of the most hopeful set of talks for a long time) may seem to concern under a million people on one small island, it is key to the question of whether the EU will accept a muslim country (Turkey) as an equal member. The psychology of the Cyprus Problem throws important light on the factors and history behind the current obsession with "Islam v the West". The book stands apart from the crowd of other books out there offering accounts of the Cyprus Problem heavily weighted to the Greek(-Cypriot) or Turkish(-Cypriot) side. Some of those books try to be objective, but the divide is so pervasive that it is almost impossible to start describing the problem without using terms (or picking starting points and key events) that are perceived as being on one side or the other. British writers' attempts at even-handedness are readily seen, sometimes probably rightly, as a continuation of colonial "divide and rule" and an attempt to disguise UK/US interference. What Papadakis does in this book is simply to illustrate the accounts told by both sides, the Greek and the Turkish, rather than pushing one or the other or trying to find a middle ground. He does so through an unfolding story of his own experience (making it more engaging than the usual "historical" accounts). As one of the generation brought up purely on his side's official story, he recounts the shock of what he finds out in contacts with the "other side" and his dawning realisation that his parents generation knew much more than they can let on.The book does have some drawbacks - it is easier to understand with some prior knowledge of Cyprus (or Greek-Turkish relations); he over-simplifies some of the mapping of left/right politics onto pro/anti-solution stances; he sometimes spoils a clearly made point by pushing on into over-done pretentious post-modernist abstraction about "narratives" and "the other" (but much less so than most of the sociological school of writing on Cyprus that Pappadakis fits into); and his analysis often over-eggs the degree to which the rhetoric of each side is an exact mirror of the other's. But this book is worth reading because, in a field over-crowded with partisan accounts masquerading as objective histories, it is unique in using a personal journey of discovery to offer a much more enlightening and honest approach to understanding the mind-sets involved in the persistence of the Cyprus Problem.