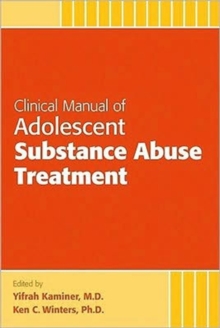 Clinical Manual of Adolescent Substance Abuse Treatment
Paperback / softback
Description
Clinical Manual of Adolescent Substance Abuse Treatment brings together extensive new research in the field of adolescent substance abuse.
The majority (85%) of adolescents experiment with substances prior to graduating from high school, and more than 10% of youth are in need of a clinical intervention for their substance use.
This volume serves as a valuable resource for psychiatrists, psychologists, family physicians, social workers, substance abuse specialists, public health officials and other clinicians as well as residents and students of psychology. This manual provides updated, comprehensive, and clinically oriented information on the identification, assessment, prevention, and treatment of adolescents at risk for or with problems associated with substance abuse.
Special emphasis is given to different psychosocial and pharmacological interventions as well as to the treatment of coexisting psychiatric disorders.
As a comprehensive clinical resource, the manual * Addresses how the onset of any drug use during adolescence negatively impacts cognitive, physical, and psychosocial development.*Explores both the progression to more serious addiction and psychopathology and the risk of medical problems.* Highlights the developmental dysregulation that substance abuse causes in youth, such as in the prefrontal cortex.* Underscores the importance of clinicians' knowledge of risk factors that predict progression from substance experimentation to abuse.* Examines the challenges of developing age-appropriate interventions and treatment and continuity-of-care strategies to reduce and eliminate substance abuse.
The editors, Drs. Yifrah Kaminer and Ken Winters, have contributed as authors to this edition as well as assembled some of the most prominent authors in the field, who expertly bridge the gap between research and clinical practice.
This extremely timely and practical guide offers a review of most substances of abuse currently available, covers laboratory work for drug detection in youth, and discusses the legal boundaries of school-based assessment of substance abuse.
Throughout the manual, complex material is made accessible through the extensive use of tables, charts, case vignettes, and summaries. In addition, each chapter presents information for further investigation, including relevant Web site referrals to access the continually evolving research available on substance abuse by youth and suggested readings that expand upon each author's specialized area of study. Readers will find this manual a valuable resource in furthering their understanding of adolescent substance abuse and increasing their effectiveness in providing treatment.
Information
Format: Paperback / softback
Pages: 592 pages
Publisher: American Psychiatric Association Publishing
Publication Date: 30/10/2010
Category: Drug & substance abuse: social aspects
ISBN: 9781585623815
Free Home Delivery
on all orders
Pick up orders
from local bookshops