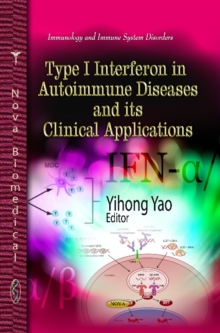 Type I Interferon in Autoimmune Diseases & Its Clinical Applications
Hardback
Description
Auto-immune diseases such as systemic lupus erythematosus (SLE), Sjoegren's syndrome, psoriasis, scleroderma (SSc) and myositis are heterogeneous disorders that result from interactions between genetic and environmental factors.
Type I interferons (IFNs), especially IFN- /ss, have multiple biological functions including anti-viral and anti-bacterial properties, immuno-modulation, anti-proliferation, and intensive studies over decades have also revealed important roles in auto-immunity and cancer.
Sustained Type I IFN elevation has been implicated in immune responses against self-antigens and tissue damage, which has led to the hypothesis that type I IFN might play a critical role in the pathogenesis of some auto-immune and inflammatory diseases.
This book provides an overview of many key topics surrounding type I IFNs, beginning with detailed discussion of the type I IFN signalling pathway, the interplay between components that regulate this pathway, its involvement in auto-immunity, and a detailed review of the roles of type I IFNs in a series of well characterised inflammatory and auto-immune diseases.
Information
Format: Hardback
Pages: 349 pages
Publisher: Nova Science Publishers Inc
Publication Date: 19/06/2013
Category: Immunology
ISBN: 9781624173790
Free Home Delivery
on all orders
Pick up orders
from local bookshops