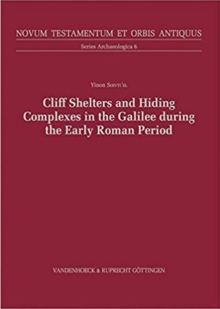 Cliff Shelters and Hiding Complexes in the Galilee During the Early Roman Period : The Speleological and Archaeological Evidence
Hardback
Description
This book is the result of years of intensive study conducted by Yinon Shivtiel throughout Galilee combining historical, archaeological, and speleological research.
The author documents and describes all the Galilean sites so far discovered containing the traces of underground cavities hewn out and readied by Jews as refuges and hiding places during the Early Roman period.
The study relies on accounts in two of Flavius Josephus' works, The Jewish War and The Life of Josephus, where Josephus records that the Jewish population in Galilee prepared two types of underground chambers for use in times of adversity, defined in the research as "cliff shelters" and "hiding complexes".
During the author's comprehensive fieldwork, which is thoroughly documented and described in the book, it became clear that the first method exploited natural caves whose openings were located at the top of steep cliffs, most of which could only be reached by rock climbing or rappelling with the aid of ropes.
The many finds from these shelters shed light on their extensive use during the Early Roman period.
Where no naturally fortified cliffs existed, the Jews of Galilee resorted to quarrying out underground hiding complexes.
The book details the evidence and finds from the different forms of hiding complexes discovered beneath the remains of many of the Jewish settlements in Galilee chronicled by Flavius Josephus.
Research into these complexes has revealed their resemblance to similar hiding systems discovered in the Judean plain.
The book is copiously illustrated with plans, figures and photographs of both types of underground chambers and it discusses their connection with the desperate times faced by the Jews in Galilee throughout the entire Early Roman period, particularly during the Great Revolt.
Information
Format: Hardback
Pages: 240 pages, 222 colour & b/w illus & maps
Publisher: Vandenhoeck & Ruprecht GmbH & Co KG
Publication Date: 20/05/2019
Category: European history
ISBN: 9783525540671
Free Home Delivery
on all orders
Pick up orders
from local bookshops