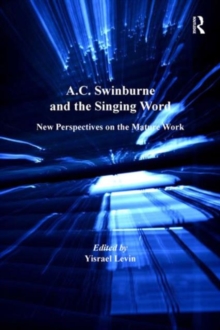 A.C. Swinburne and the Singing Word : New Perspectives on the Mature Work
Hardback
Description
Focusing on Algernon Charles Swinburne's later writings, this collection makes a case for the seriousness and significance of the writer's mature work.
While Swinburne's scandalous early poetry has received considerable critical attention, the thoughtful, rich, spiritually and politically informed poetry that began to emerge in his thirties has been generally neglected.
This volume addresses the need for a fuller understanding of Swinburne's career that includes his fiction, aesthetic ideology, and analyses of Shakespeare and the great French writers.
Among the key features of the collection is the contextualizing of Swinburne's work in new contexts such as Victorian mythography, continental aestheticism, positivism, and empiricism.
Individual essays examine, among other topics, the dialect poems and Swinburne's position as a regional poet, Swinburne as a transition figure from nineteenth-century aesthetic writing to the professionalized criticism that dominates the twentieth century, Swinburne's participation in the French literary scene, Swinburne's friendships with women writers, and the selections made for anthologies from the nineteenth century to the present.
Taken together, the essays offer scholars a richer portrait of Swinburne's importance as a poet, critic, and fiction writer.