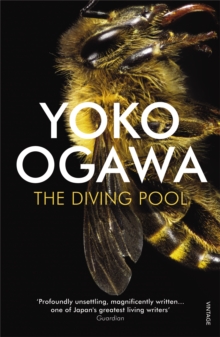 The Diving Pool
Paperback
Description
Beautiful, twisted and brilliant - discover Yoko Ogawa. A lonely teenage girl falls in love with her foster-brother as she watches him leap from a high diving board into a pool - sparking an unspoken infatuation that draws out darker possibilities.
A young woman records the daily moods of her pregnant sister in a diary, but rather than a story of growth the diary reveals a more sinister tale of greed and repulsion. Driven by nostalgia, a woman visits her old college dormitory on the outskirts of Tokyo.
There she finds an isolated world shadowed by decay, haunted by absent students and the disturbing figure of the crippled caretaker.
Information
Format: Paperback
Pages: 176 pages
Publisher: Vintage Publishing
Publication Date: 01/03/2009
ISBN: 9780099521358
Free Home Delivery
on all orders
Pick up orders
from local bookshops
Reviews
Showing 1 - 1 of 1 reviews.
Review by Cait86
16/06/2015
A friend sent me Yoko Ogawa's <i>The Diving Pool</i> after I read and enjoyed <i>The Housekeeper and the Professor</i>, a sweet novel about a woman and her son, and their unique relationship with a mathematics professor. This book, <i>The Diving Pool</i>, is a group of three novellas, and it is so different from [The Housekeeper and the Professor] that it is difficult to believe that they are by the same author.The first novella, <i>The Diving Pool</i>, is about a teenage girl who falls in love with her step-brother. She watches his diving practice everyday after school, slipping out at the end before he can see her. At first this seems like a cute first crush, but things soon take an obsessive turn.The second novella, <i>Pregnancy Diary</i>, is told throught he diary of a young woman living with her pregnant sister and brother-in-law. Again, things start out rather normally, but soon become disturbing.The third novella, <i>Dormitory</i>, is about a woman who returns to her college residence years after her graduation. This dorm has fallen into disrepair, and the narrator is sucked into the rather sinister life of the crippled Manager of the building.Ogawa's prose (and the work of her translator) is beautiful. She is a master at creating a mood - all of these stories made me feel rather creeped out - and at exploring the inner workings of the human mind. Her prose is detailed, yet sparse; she is an author who knows how to get the most out of just a few words.So why, then, the low 2.5 star rating? Each of these stories has huge potential. They set up an obsessive character, give these characters destructive habits, and then right when the reader thinks something terrible is going to happen.... they end. Three times I felt my imagination kick into gear, felt as though some horriffic event was going to occur, and then each time I was let down. Nothing happened. These stories all had such potential, but Ogawa never took that last step. She made the horrible mundane, or just simply avoided the implecations of her characters' actions. Don't let this book be your only attempt at Ogawa's bibliography - <i>The Housekeeper and the Professor</i> was very good, and I will definitely search out more of her books.