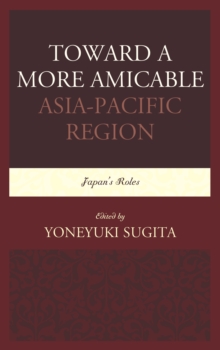 Toward a More Amicable Asia-Pacific Region : Japan's Roles
Hardback
Description
The Asia-Pacific region has been enjoying fast growing economy.
As President Barack Obama's "pivot to Asia" strategy indicates, this region is an engine for the world economic growth.
However, the Asia-Pacific has also been an unstable region suffering from many sources of conflicts such as disputes on Senkaku/Diaoyu Islands, the unsettled Exclusive Economic Zone (EEZ) borders, and many others.
Do we need a hegemonic power to stabilize this region?
What can we do to deal with the emergence of China? How can we understand anti-Japanese feelings? Is there any way to deal with the problem on Senkaku/Diaoyu Islands?
How can we analyze nuclear crisis on the Korean peninsula?
Can the European Union make any contribution to stabilizing the Asia-Pacific region?
Those are some of the concrete questions this book tackles with in order to find ways and means to establish a more amicable Asia-Pacific region.
Information
Format: Hardback
Pages: 158 pages
Publisher: University Press of America
Publication Date: 28/12/2015
Category: Asian history
ISBN: 9780761866787
Free Home Delivery
on all orders
Pick up orders
from local bookshops