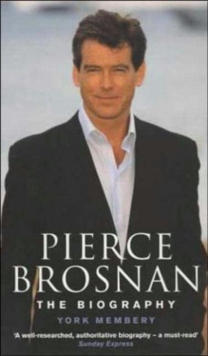 Pierce Brosnan : The Biography
Paperback / softback
Description
Pierce Brosnan was first offered the part of Bond in 1986, only to be prevented from taking it by contractual obligations to the television series "Remington Steele".
It wasn't until 1995 that he burst onto the big screen as the legendary James Bond in "Goldeneye".
To many, it was a part he was born to play. Brosnan decided to become an actor after seeing "Goldfinger" when he was ten, he married an ex-Bond girl and seems to have just the right combination of good looks, charm and single-mindedness for which James Bond was famed.
This book tells the story of Brosnan's rags-to-riches life.
Born in Ireland, his parents divorced when he was very young.
He spent his childhood living with various relatives, before eventually "settling" with his mother in London.
It tells of his shy and lonely childhood and nascent passion for acting which has taken him to the heady heights of Bond, and on the back of that success, his own production company, Irish Dream Time.
Though driven by his work, Brosnan is also very much a family man, and this biography also explores Brosnan's personal life. His beautiful Australian wife, Cassandra, tragically died of cancer, but after some time as a single parent, he has found happiness with his second wife, Kelly Shaye-Smith and their new family.
He is also involved in a number of cancer, environmental and children's charities, the Prince's Trust and Irish UNICEF.
Information
Format: Paperback / softback
Pages: 308 pages
Publisher: Ebury Publishing
Publication Date: 07/08/2003
Category: Films, cinema
ISBN: 9780753507964