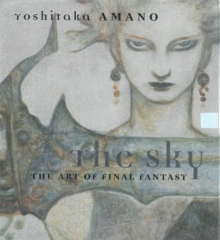 Sky, The: The Art Of Final Fantasy Slipcased Edition
Hardback
Information
Format: Hardback
Pages: 640 pages, 1 Illustrations, unspecified
Publisher: Dark Horse Comics
Publication Date: 23/07/2013
Category: Graphic novel & Manga artwork
ISBN: 9781616551605
Free Home Delivery
on all orders
Pick up orders
from local bookshops
Reviews
Showing 1 - 2 of 2 reviews.
Review by aoibhealfae
16/06/2015
The Sky : The Art of Final Fantasy is a gorgeous collection by Yoshitaka Amano and his art work on all of the Final Fantasy series. Intended to be a collector item, this book consisted of a variety of detail that centered on his vision of the Final Fantasy series. If you are familiar with the game series, you'll be more appreciative of this book since you could still see the genius behind this master of art. Although most of the game series are out-dated with its turn-based system and scratchy 3D that many would cringe, the art of the original game series pre-FF7 are surprisingly even more better than the game itself. Its like the original game series developer failed trying to imitate and adapt Amano's work until the technology got better.<br/><br/>The review copy I had only consisted the first two volumes and missing the final volume which I didn't mind much. There were multiple of watercolor and pen work in the volumes. Majority of the volume was just on the various monsters in the game and you could see how the Amano's visionary made the storyline even more intense and surprisingly, more adult and serious. <br/><br/>I am a gamer of the series since I was 10. I saw and experience the transition and betterment of the game series with gaming technology. But surprisingly, Amano's artwork remain consistent and simply awe-inducing. I completely adore the steampunk, fantasy and the dystopian scenery. The intricate and colorful depiction of an airship, the grand castle in the middle of the desert, the characters itself (which if you played anything before FF6, you'll notice all of the characters looking like child-like or teenager with bad 3D and this part certainly will surprise you even more), frightening creepy monsters even more frightening on pen art than on the game itself and you could see that Amano's vision of the game was severely limited by the game technology and it shows.<br/><br/>Thankfully, we have seen his ideas realized with FMVs in the later series (especially the fantasy element in Final Fantasy 9 and above) and with the advancement of Playstation generation, game developers have certainly on par with adapting Amano's art into the gaming scene. But somehow that is also a poor comparison since there was no way for Squaresoft to fully adapt everything Amano does because his work surpass realism and completely saturated with the fantasy element of the Final Fantasy.<br/><br/>The ARC is provided by the publisher via Netgalley in exchange for an honest review.
Review by jljaina
16/06/2015
This was a fun book to reminisce with. I love playing the final fantasy games so I had a great time going through this collection of amazing artwork. The only regret I have now is that I never played a lot of the early games that the artwork here depicts. <br/> <br/>This is one of those books you just want to stare at, noticing all the details. You really come to appreciate the world. It has left me wanting to go play the games. So, when I have some free cash, I get to head over to the used game store to see what I can find. So here are some points of interest I found for the various games art the artistic use shown. Please note, I am not an artist by any means, not do I know the terminology. I am just a gaming fan who happens to like artwork as well.<br/><br/> Final Fantasy 1-1987: Some art is very detailed-worthy of wall art. Others sketchy, quick drawings. Both color, paint, pencil, etc. A nice blend of work shown. <br/><br/>FF2- 1988: Lots of collages. Edgier work. Covers the names of beloved characters. which was a nice bonus.<br/><br/>FF3-1990: Maturity in color use. Some outfits were too busy however, in color and style, showing trends to close to late 80's look in real life. Fitting for the time but a bit too much to look at now.<br/><br/>FF4-1991: Richer color use. Bold blues, reds, greens,etc vs pastels. More dragons which was fun to see being a dragon fan.<br/><br/>FF5-1992: Solid colors, and schemes with red and black being predominant with other accented colors. Not all characters were this way. Such as Gogo the mimic who was extremely colorful! Drawings for this game also shows more battle scenes.<br/><br/>FF6-1994: The best blend of work so far in my opinion. A maturing blend of styles. Also, the characters seem more expressive in this one. Plus there are pictures of Mog, who is just adorable!<br/><br/>FF7-FF9 ??????????????????? I do not know where these are. Please note my copy of this was a review copy, not the finished work but for some reason it does not show the last third of the artwork. It seriously just stopped at page 383! I do not know if it is either a glitch in my copy or because it was only meant for review and being this isn't a novel I don't need to see everything. I do not know. <br/><br/>My only real complaint is I wanted information. More that just a character name. Final Fantasy is about plot. Give me some information about the characters. Monster info would be nice too. Don't get me wrong the art selection is incredible, worthy of 5 stars, but I like to know a bit about what I am looking at, especially since I haven't played all the games. Oh well. Still I has so much fun viewing this. The artwork is so detailed! A very enthralling book to view.<br/> <br/>Special Thanks to Diamond Book distributors and Netgalley for providing me with a copy of this. This book was given in exchange for a fair and honest review.