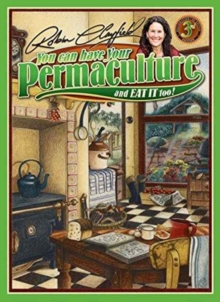 You Can Have Your Permaculture and Eat it Too
Paperback
Description
This is a cook book for gardeners, a gardening book for cooks and an inspirational reference for all things permaculture!
Permaculture has become increasingly popular as a gardening technique and lifestyle philosophy.
Growing your own food and creating nutritious meals free of chemicals and additives appeals to more and more people very year.
You Can Have Your Permaculture and Eat It Too offers readers and 'how to' advice for designing and creating productive, edible gardens based on permaculture principles.
This inspiring and motivational reference book is a detailed primer on permaculture's environmental principles and ethics.
It explains how to use your harvest effectively in your kitchen , green your household, and increase your personal economy.
Cosmetics, food combining and preparation, turning your crops into cash income, entertaining and numerous related subjects are covered.
Both the seasoned organic gardener and those new to green living will find You Can Have Your Permaculture and Eat It Too a handy reference tool.
Garden design examples, species lists, tips, diagrams an d exercises embellish the text. Hundreds of diverse, delicious and mostly vegetarian recipes offer support for people and plants to achieve a healthier and more fulfilling lifestyle.
Learn how to grow edible flowers, forage abundant edible weeds, make cosmetics, gifts and crafts from the garden and earn money from your hobbies.
Information
Format: Paperback
Pages: 268 pages
Publisher: Permanent Publications
Publication Date: 01/03/2017
Category: Cultural studies
ISBN: 9781856233057
Free Home Delivery
on all orders
Pick up orders
from local bookshops