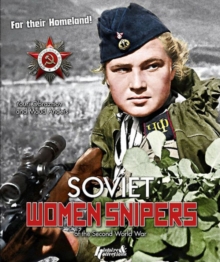 Soviet Women Snipers : Of the Second World War
Paperback / softback
Description
The commitment of Soviet women to their country during World War II was unprecedented, both in terms of their sheer numbers and also in terms of their unique roles.
More than 100,000 of them would join the regular army, or the partisans.
Of all the jobs women were allowed to do during the war, one of the toughest and most unlikely was that of the sniper.
Here is the incredible story of those who, before the war, were teachers or students, and through the will to defend, or avenge, their country and their families, became snipers. Former deputy officer of the Foreign Legion, author Yuri Obratzov is a specialist in the field of identification.
Information
Format: Paperback / softback
Pages: 145 pages, photos in colour and b/w
Publisher: Histoire & Collections
Publication Date: 30/09/2014
Category: Second World War
ISBN: 9782352503880