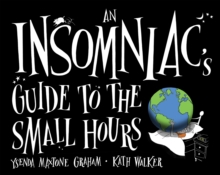 An Insomniac's Guide to the Small Hours
Paperback
Description
It's 11pm. All you've wanted to do all day is sleep. You're overworked, underappreciated, and the only thing that got you out of bed this morning was the thought of getting back in it again.
Now, finally, here you are. In bed. On the cusp of sleep, drifting off. Such a relief. For what we are about to receive may the Lord make us truly thankful.
But then your mind wanders. Into territory where it should not go. From death to broken lightbulbs. From redundancy to unwritten thank-you letters. The minutes tick by. Oh, God, it's going to be one of those nights. Those nights which seem to go on for ever, when all the cares of the world weigh down on your shoulders...This is a book for anyone who has ever spent a night tossing and turning, worrying about life's worst scenarios.
The Insomniac's Guide takes you on a journey that will have you laughing in your sleep (or lack of it).
Information
Format: Paperback
Pages: 142 pages
Publisher: Short Books Ltd
Publication Date: 01/10/2012
Category: Sleep disorders & therapy
ISBN: 9781780721132
Free Home Delivery
on all orders
Pick up orders
from local bookshops
Also by Ysenda Maxtone-Graham