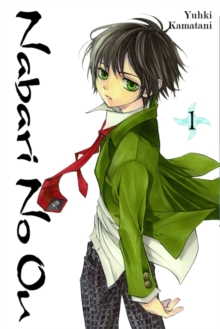 Nabari No Ou, Vol. 1 : vampire Mountain
Paperback
Description
Apathetic schoolboy Miharu Rokujou is content to meander through life in the sleepy village of Banten.
But his quiet existence is shattered when the Grey Wolves of Iga, a powerful ninja clan, attempt to kidnap him in broad daylight.
Only then does Miharu discover that the ultimate power of the hidden ninja realm - a power that can do both great good and great harm - is sealed within his body.
As battles erupt among rival ninja clans seeking to control him, Miharu must overcome his apathy and learn the ways of the ninja if he wants any shot at survival!
Information
Format: Paperback
Pages: 192 pages
Publisher: Little, Brown & Company
Publication Date: 12/05/2009
Category: Manga
ISBN: 9780759530034
Free Home Delivery
on all orders
Pick up orders
from local bookshops
Reviews
Showing 1 - 1 of 1 reviews.
Review by Jenson_AKA_DL
16/06/2015
Miharu is an apathetic young man who is unwilling drawn to his destiny when his fate as the keeper of all knowledge is revealed to him. Hunted by the Grey Wolf Clan and protected by an odd group of shinobi lead by his sensei, a conversational English instructor at his school Miharu finds himself doing the impossible and a slave to a destiny more powerful than his disregard.Typically I'm not the biggest fan of shonen manga, preferring the more romantic storyline, however, this was a very intriguing story that easily held my interest. I really like Miharu. I tend to think his apathy is more of a self-protective instinct and I really love the flashes of wicked humor a guile he uses at odd times. The story moves along very quickly and by the end of this volume we have traveled far from where we started. I find this unusual in that most manga move in very episodic ways without as much progress in the story in one volume as this showed. The artwork is all well done although some of the backgrounds lack detail it was overall enjoyable and easy to take in. I also have to add in here that I found this manga much more understandable than the first episode of the anime. The progression of the story lends the quick flashback near the middle of the book more background then when you are first dumped into the same scene in the anime. It is much more understandable in this context.This is an interesting supernatural tale that I'm looking forward to reading more of.