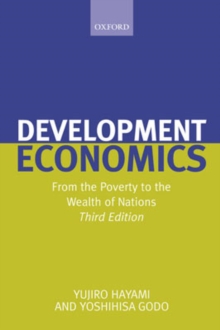 Development Economics : From the Poverty to the Wealth of Nations
Paperback / softback
Description
This textbook provides a comprehensive, systematic treatise on development economics, combining classical political economy, modern institutional theory, and current development issues.
Grown out of twenty years' experience of teaching in the United States and Japan, its treatment is global, although the organizing principle is the East Asian development experience.
Taking a comparative institutional analysis approach, it also outlines quantitative characteristics ofThird World development in terms of population growth, natural resource depletion, capital accumulation, and technological change. Development Economics addresses one major question: Why has a small set of countries achieved a high level of affluence while the majority remain poor and stagnant? One obvious factor is a the ability to adopt and develop advanced technology, due in large measure to the difficulty experienced by low-income economies in preparing appropriate institutions for borrowing advanced technology given their social and cultural constraints.
This volume explores the nature of these constraints,with the aim of identifying the means to remove them, and examines countries where the constraints have been successfully lifted--most notably Japan and East Asian NIEs. This fully revised and updated third edition also incorporates analyses of several recent changes and newly emerged problems relevant to the global economy: recurrent economic crises in Latin America contrasted with the recovery of East Asia from the 1997-8 financial crisis; a paradigm change in international development assistance from 'the Washington Consensus' to the 'the Post-Washington Consensus', with a major shift in its focus from economic growth to poverty reduction as manifested inthe United Nations' Millennium Development Goals; and the stalemate in international collaboration on the environment as represented by delays in the ratification of the Kyoto Protocol.
In exploring these issues, Development Economics provides important lessons on what institutions can promote economicgrowth, reduce poverty, and conserve the environment through the borrowing of technology.
Information
Format: Paperback / softback
Pages: 448 pages, numerous figures & tables
Publisher: Oxford University Press
Publication Date: 01/02/2005
Category: Development economics
ISBN: 9780199272716
Free Home Delivery
on all orders
Pick up orders
from local bookshops