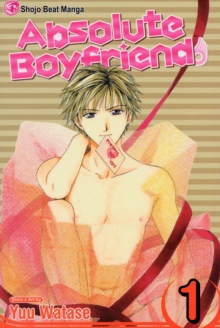 Absolute Boyfriend : v. 1
Paperback
Description
Shy high school student Riko Izawa aches for a boyfriend but guys just won't look her way.
Then one day she signs up for a three-day trial of a mysterious 'lover figurine,' and the next thing she knows, a cute naked guy is delivered to her doorstep - and he wants to be her boyfriend!
Has Riko died and gone to heaven? The cute naked guy turns out to be smart, super nice, stylish and a gourmet chef.
Plus, he looks like a million dollars. Trouble is, that's about what he's going to cost Riko because she didn't return him in time!
Information
Format: Paperback
Pages: 208 pages, chiefly Illustrations
Publisher: Viz Media, Subs. of Shogakukan Inc
Publication Date: 01/02/2006
Category: Manga
ISBN: 9781421500164
Free Home Delivery
on all orders
Pick up orders
from local bookshops
Reviews
Showing 1 - 5 of 5 reviews.
Review by bostonbibliophile
16/06/2015
Super-fluffy, fun shojo about a girl who orders a robot boyfriend. Will almost certainly read the rest of the series.
Review by NikoleJosh
16/06/2015
SummaryTells a story or Riiko who is tired being rejected by the boy she likes too many times. She is then offered a free trial on a late night show "nightly lovers" and takes the offer up. A robot, Night, shows up ready and wanting to be her boyfriends.My ResponseThis book has humor, romance, and situations that young girls could relate to when dealing with boys. Being that I'm not use to reading manga books this was a funny story. I would recommend it for young adults and older. Classroom Extension1)Ask students to write how they can relate to Riiko in her situations.2)Ask students to draw and write a short story of their own.
Review by wolfangel87
16/06/2015
When you want a boyfriend none are around, that is just how Riiko feels. On the path of desperation she signs up for a free trial for a robotic boyfriend. What can go wrong right? Nope, wrong! Riiko receives the extravagant Night, a hot and sexy man that only wants to please her.Seriously this is one of the best manga I have ever read! It is filled with romance and comedy and enjoyable characters. I fell in love with every aspect of this series right from the beginning. There is an interesting love triangle that also develops, I had a hard time choosing which guy I would end up picking, you will have to see for yourself.Riiko is just a doll! No, not literally, but cute nonetheless. She is always looking on the bright side of things and is protective of the ones she loves. Night is the epitome of every girls dream guy. He is so adorable when he is learning all of the different emotions and things Riiko is trying to teach him. Night is really cute when he starts becoming overprotective of Riiko.I really wish they would make it into an anime!!!
Review by SparklePonies
16/06/2015
Riiko has been rejected once again by the guy she likes and is a bit down and out when she gets the mysterious offer for a free trial boyfriend figure. As what always happens she does not return him soon enough and is required to buy him. This series is very different than Ms. Watase's Fushigi Yugi series. The art work is still great, the plot is interesting and the characters are interesting. This series is also funny instead of tragic like FY.
Review by punxsygal
02/03/2016
Riiko Izawa wants a boyfriend and has been rejected by young men as a "loser". She goes online and signs up for a free trial offer of a Nightly Lover "figure", complete with the options of her choice. The very next day a large package is delivered to her door. It contains a cute naked guy who wants to be her boyfriend. The guy, she names "Night", has it all, sweetness, looks, cooks and more. Meanwhile, her neighbor, Shosi is not happy about the proprietary air of Night regarding Riiko. And then Riiko misses the 72-hour deadline of her trial offer.<br/><br/>I came to reading this as a result of the PBT Bingo game and it was a real stretch out of my reading world. I grew up on Classic Illustrated comics and Archie comics. Manga is neither of those. It seems to be stories of very American high school kids given Japanese names for the genre. Almost all the characters looked the same. And the book was read from back to front, and right to left. I can see how it might appeal to junior high through high school kids. I did feel that having Night ask Riiko to have sex every chapter was a little too blatant—though in truth, the characters never did have sex. Not to my taste, so it would be hard for me to recommend this book.<br/>
Also in the Absolute Boyfriend series