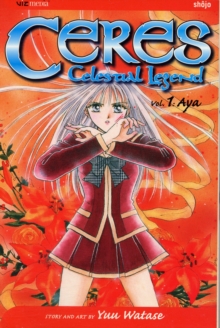 Ceres: Celestial Legend : Aya Volume 1
Paperback
Description
Aya and her twin brother Aki thought they were going to a celebration of their sixteenth birthday at their grandfather's home, but the funeral-like atmosphere tips them off that something's not right.
Their 'birthday present' turns out to be a mummified hand - the power of which forces an awakening within Aya, and painful wounds all over Aki's body.
Grandfather Mikage announces that Aki will be heir to the Mikage fortune, and Aya must die!
But Aya has allies in the athletic cook and martial artist Yuhi, and the attractive, mysterious Toya.
But can even two handsome and resourceful guys save Aya when it's her own power that's out of control?
Information
Format: Paperback
Pages: 208 pages, chiefly Illustrations
Publisher: Viz Media, Subs. of Shogakukan Inc
Publication Date: 01/10/2003
Category: Manga
ISBN: 9781569319802
Free Home Delivery
on all orders
Pick up orders
from local bookshops
Reviews
Showing 1 - 2 of 2 reviews.
Review by MaowangVater
16/06/2015
"This volume contains the Ceres, celestial legend installments from Part 1, issue 1 through Part 1, issue 6 in their entirety"--Added t.p. verso"First published by Shogakukan, Inc. in Japan as Ayashi no Ceres – Added t.p. verso1. Horror comic books, strips, etc. 2.Comic books, strips, etc.--Japan. 3. Twins -- Comic books, strips, etc. I. Leach, Gary, 1957- . II. Olsen, Lillian, Translator. Annotation: On her sixteenth birthday, Aya Mikage experiences some very strange and frightening events. She goes to a fortune teller, but is angered by what she hears, "They say her predictions are dead-on. But all I got was a bunch of dorky horror movie crap!"Then on her way home with her friends she falls from a pedestrian bridge over a highway, yet she floats – not falls – to the ground. She's swept out of the path of an oncoming car by a mysterious stranger. Then she and her twin brother Aki go to their grandfather's house for a party. Their present is a mummified hand that covers Aki with bloody slashes. Then Grandfather Mikage tells Aya that she must die to save the family. Her parents are led away by her other relatives and an uncle tries to strangle her.Watase writes a series of sidebars throughout the books where she talks directly to readers about what is on her mind at the time of writing. It is much like reading a blog. In volume 1, page 25 (1:25) she writes about how she will use Ceres to tell a story that she first thought of when she was still in high school, but it would be a "different kind of horror" story. Some of her musings in volume 1 indicate a departure from the traditional shojo (girl's) comic:My work is said to be 'positive and enthusiastic' but there is actually another side to it… Even if it's over-the-top, there would have to be 'love.'My innocent readers are going to run away. Darn! (1:147)But I think 'love that's gone just short of insanity" is really sublime in some respects. Eros and Thanatos…There could be a dark side to it too, so I know there's danger in depicting it. I think the world of 'Ceres' … is… modeled after the idea of 'pairs.' Man and woman, love and hate, light and shadow, good and evil, past and future, etc. (1:165)
Review by senbei
16/06/2015
As with most manga series, the first volume is the most gripping. I was just describing the plot of this volume to a friend recently and it ended up sounding pretty interesting. The characters however, are pretty typical for shoujo, and of course the fact that they're 16 years old explains a lot about their emotional state. Nevertheless, Aya and Aki's fates pull on the reader's heartstrings and Toya's charisma is unmistakable. Not a bad beginning!
Also in the Ceres Celestial Legend series | View all