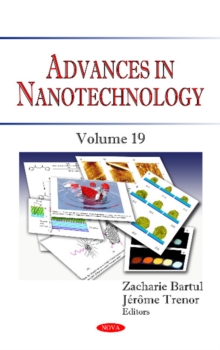 Advances in Nanotechnology : Volume 19
Hardback
Description
This book gathers and presents data on nanotechnology.
Major obstacles, drawbacks and challenges were analysed, and optimum solutions were provided / recommended for each individual nanomaterial in Chapter One, which also covers some technical analysis and sustainable uses of these materials in different industries.
Chapter Two summarises recent advances in the fabrication, characterisation, properties, and applications of CB nanoparticles in various industries.
The (simultaneous) twin polymerisation using diverse main-group and transition metal compounds as twin monomers, and additives like metal carboxylates or tin alkoxides to produce metal and metal oxide nanoparticle- as well as tin alloy-decorated porous carbon and silica hybrid materials is reported in Chapter Three.
Several nanocomposites and products available in the market were studied in detail in Chapter Four to understand the Eol concepts of these materials and structures used for numerous product developments.
Chapter Five summarises recent advances in the fabrication of nanoparticles, especially carbon nanoparticles (CNPs) and their inherent failure mechanism under various external loading conditions.
Chapter Six utilises thermal performance-illumination experiment with intelligent dimensional analysis to study the green-energy device characteristics in high power heating sources, in order to reach the green recycling of energy efficiency and depict how to prepare the process of thermo-electric nanofluid and fill it into pipe to form a TEP device.
Chapter Seven presents a summary of the fabrication of soft nanostructure by molecular self-assembly of synthetic peptides.
The structural-parametric model, the solution of the wave equation of the electroelastic actuator and the calculation their transfer functions are presented in Chapter Eight.
Information
Format: Hardback
Pages: 181 pages
Publisher: Nova Science Publishers Inc
Publication Date: 01/07/2017
Category: Nanotechnology
ISBN: 9781536124156
Free Home Delivery
on all orders
Pick up orders
from local bookshops