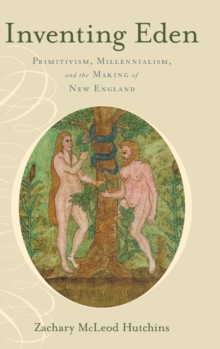 Inventing Eden : Primitivism, Millennialism, and the Making of New England
Hardback
Description
As Christopher Columbus surveyed lush New World landscapes, he eventually concluded that he had rediscovered the biblical garden from which God expelled Adam and Eve.
Reading the paradisiacal rhetoric of Columbus, John Smith, and other explorers, English immigrants sailed for North America full of hope.
However, the rocky soil and cold winters of New England quickly persuaded Puritan and Quaker colonists to convert their search for a physical paradise into a questfor Eden's less tangible perfections: temperate physiologies, intellectual enlightenment, linguistic purity, and harmonious social relations.
Scholars have long acknowledged explorers' willingness to characterize the North American terrain in edenic terms, but Inventing Eden pushes beyond thisgeographical optimism to uncover the influence of Genesis on the iconic artifacts, traditions, and social movements that shaped seventeenth- and eighteenth-century American culture.
Harvard Yard, the Bay Psalm Book, and the Quaker use of antiquated pronouns like thee and thou: these are products of a seventeenth-century desire for Eden.
So, too, are the evangelical emphasis of the Great Awakening, the doctrine of natural law popularized by the Declaration of Independence, and the first UnitedStates judicial decision abolishing slavery.
From public nudity to Freemasonry, a belief in Eden affected every sphere of public life in colonial New England and, eventually, the new nation.
Spanning two centuries and surveying the work of English and colonial thinkers from William Shakespeare andJohn Milton to Anne Hutchinson and Benjamin Franklin, Inventing Eden is the history of an idea that shaped American literature, identity, and culture.
Information
Format: Hardback
Pages: 344 pages, 7 halftones
Publisher: Oxford University Press Inc
Publication Date: 07/08/2014
Category: Literary studies: c 1500 to c 1800
ISBN: 9780199998142
Free Home Delivery
on all orders
Pick up orders
from local bookshops