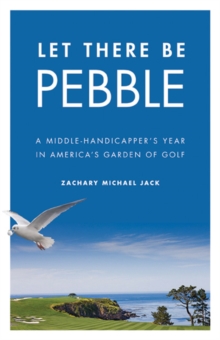 Let There Be Pebble : A Middle-Handicapper's Year in America's Garden of Golf
Hardback
Description
It was "scary," Jack Nicklaus said of Pebble Beach, and gave him nightmares so acute he famously woke his wife on the eve of his 1972 U.S.
Open victory totally spooked. "It's not a golf course," sportswriter Jim Murray wrote, "it's a hellship." Golf writer Dan Jenkins once joked that the famed venue of the Bing Crosby National Pro-Am should be dubbed "Double Bogey-by-the-Sea." A one-time failed Division One golf walk-on, Zachary Michael Jack opts to stare down an early midlife crisis by chronicling a U.S.
Open year spent at Pebble Beach, object of his ailing father's fantasies and site of the nation's number one public course and its fairy-tale host town, Carmel-by-the-Sea, California.
There, along the blue Pacific, he traces the colorful, capricious, and comical world of golf on the Monterey Peninsula as never before via interviews with legends of the game Johnny Miller, Gary Player, and Tom Watson; with today's brightest stars-Padraig Harrington, Phil Mickelson, and Bubba Watson; and with some of its most famous celebrity linksters-actor Bill Murray, Olympic soccer star Brandi Chastain, and billionaire entrepreneur Charles Schwab.
Conducting more than one hundred interviews, Jack ranges far and wide to get the scoop, talking golfing haunts with bestselling golf novelist Michael Murphy; teeing up with members of a Carmel-based worldwide golfing society devoted to mystical play; learning to play Pebble at the knee of one of the Top 50 Golf Teachers in America and with a Carmel-based journeyman pro described as "a golf savant"; and raising a cup with a lifelong Pebble Beach resident and caddy who, unbeknownst to the hackers he shepherds, is a Hall of Fame golfer.
By turns hilarious, haunting, and historic, Let There Be Pebble reveals the utter uniqueness-the people, the rich history, the unforgettable setting and sporting culture-of this one-of-a-kind golfing cathedral.
Information
Format: Hardback
Pages: 352 pages
Publisher: University of Nebraska Press
Publication Date: 01/06/2011
Category: Golf
ISBN: 9780803233577