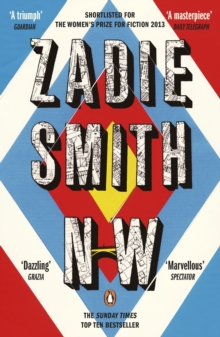 Description
Coming soon as a BBC2 drama adaptation -- a masterful novel about London life from the bestselling, prize-winning Zadie Smith.
Zadie Smith's brilliant tragi-comic NW follows four Londoners - Leah, Natalie, Felix and Nathan - after they've left their childhood council estate, grown up and moved on to different lives.
From private houses to public parks, at work and at play, their city is brutal, beautiful and complicated.
Yet after a chance encounter they each find that the choices they've made, the people they once were and are now, can suddenly, rapidly unravel.
A portrait of modern urban life, NW is funny, sad and urgent - as brimming with vitality as the city itself.Praise for NW:'Her dialogue sings and soars; terse, packed and sassy.
Smith is simply wonderful: Dickens's legitimate daughter' Boyd Tonkin, Independent'Astonishing, dazzling.
Really - without exaggeration - not since Dickens has there been a better observer of London scenes.
Zadie Smith is a genius. It's hard to imagine a better novel this year - or this decade' A.N.
Wilson'Intensely funny, richly varied, always unexpected.
A joyous, optimistic, angry masterpiece. No better English novel will be published this year' Philip Hensher, Daily Telegraph'Absolutely brilliant.
So electrically authentic' TIME'Captivating. Funny, sexy, weird, full of acute social comedy, like London.
She's up there with the best around' Evening Standard'Marvellous . . . crackles with reflections on race, music and migration.
A lyrical fiction for our times' Spectator'Undeniably brilliant . . . rush out and buy this book' Observer
Information
Format: Paperback
Pages: 352 pages
Publisher: Penguin Books Ltd
Publication Date: 06/06/2013
ISBN: 9780141036595
Free Home Delivery
on all orders
Pick up orders
from local bookshops
Reviews
Showing 1 - 2 of 2 reviews.
Review by Eyejaybee
16/06/2015
I looked forward so eagerly to reading this book, led on by my on recollectios of "White Teeth" and "On Beauty" the rave reviews in all the papers, that I was probably bound to be disappointed. And I was!Early on in the book one of the principal characters, Leah Hanwell indulges in an inner soliloquy which culminates in her telling herself "I AM SO FULL OF EMPATHY" (her capitals, not mine). Sadly, she's on her own there. I tried, I really did, but I couldn't find a shred of empathy for any of the characters in this book.There has been an annoying trend recently for publishers to append the first few chapters of the writer's next novel to the end of paperback books, as a sort of taster. I generally find that annoying because one thinks one has another fifty pages or so to go - enough to tide one over on the journey home from work, only to find that it actually ends five pages later, giving way to the opening pages of a totally different book and leaving one high and dry but bookless for the rest of one's commute. Sadly I started to hope that this book was blocked out with about 120 pages of ephemeral padding but no such luck! My hopes that a tsunami might flatten Willesden (just in the book, of course - not in real life ... though, now I come to think of it ...) or that a serial killer might take out all the protagonists in one swift bloodfest. Quite frankly 120 pages of blurb would have come as a relief!
Review by alexrichman
16/06/2015
It's hard to like a lot of the characters, but it's even harder not to like the book . So brilliantly, brutally London; one minute I was chuckling at some recognisable slang - chirpsing at a bus stop was a particular favourite - and the next something gritty or gruesome shoved me back into the gutter. The protagonists aren't pretty, and their fates are rather grim, but the writing is so expert, the sound of the capital so beautifully captured, that this makes for an easy recommendation.