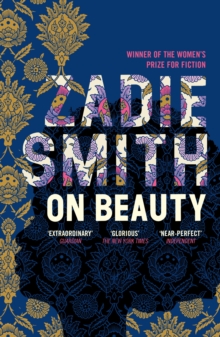 Description
Zadie Smith's On Beauty is a funny, powerful and moving story about love and family Why do we fall in love with the people we do?
Why do we visit our mistakes on our children? What makes life truly beautiful?Set in New England mainly and London partly, On Beauty concerns a pair of feuding families - the Belseys and the Kipps - and a clutch of doomed affairs.
It puts low morals among high ideals and asks some searching questions about what life does to love.
For the Belseys and the Kipps, the confusions - both personal and political - of our uncertain age are about to be brought close to home: right to the heart of family.'The novel I didn't want to finish, I was enjoying it so much' John Sutherland, Evening Standard'Thrums with intellectual sass and know-how' Literary Review'Delightfully entertaining . . . filled with humour, generosity and contemporary sparkle' Alex Clark, Daily Telegraph 'My novel of the year . . . Delicious' Liz Jones, Evening Standard'Satirical, wise and sexy' Washington Post'Heartstopping' The Times Literary Supplement'A triumph, Smith's comedy shines' Daily Mail'Ambitious, hugely impressive, beautifully observed' Guardian
Information
Format: Paperback
Pages: 464 pages
Publisher: Penguin Books Ltd
Publication Date: 03/07/2006
ISBN: 9780141019451
Free Home Delivery
on all orders
Pick up orders
from local bookshops
Reviews
Showing 1 - 5 of 11 reviews.
Previous | Next
Review by dylanwolf
16/06/2015
A wonderful novel based on EM Forster's Howard's End. We have an American campus setting and two sparring families. Zadie Smith keeps her readers enthralled and entertained for the full four-hundred and fifty pages of the novel. A super read although quite a feminist tract - all the male characters being deeply flawed, weak and unlikeable, irrespective of their left or right-wing leanings, in contrast to the women who were controlling and powerful. Still, no bad thing, I am a believer in positive discrimination.
Review by kambrogi
16/06/2015
A literary novel: character-driven and thoroughly entertaining. Already a Zadie Smith fan (based on her [White Teeth]), I didn't know what to expect with this one, as I had read a pan of it on LibraryThing, and the essay-like title made me wonder. In any case, I now feel it deserved its many awards and kudos. Like [White Teeth], it's a multicultural tale told through the eyes of a great variety of characters, but in addition to examining race, nationality, culture, marriage, aesthetics, art and age, this book examines the concept of Beauty. As art historians see it, as men see it, as women see it, as love sees it, as lust sees it. And a few more besides. It reminded me of a bit of [The Human Stain], with a similar setting and some of the same lessons, but an easier writing style (still excellent) and far less tragedy. The only (tiny) flaw was that in taking on the American setting/characters, Smith (a Brit) sometimes makes usage errors … but who cares? Characteristically writing with tongue in cheek, she manages not to lose sight of her love for her characters as she pokes fun at their hopeless humanity.
Review by tronella
16/06/2015
My sister was reading this and didn't seem overly impressed, but I already had an unread copy and I liked her earlier book, White Teeth, so I figured I'd give it a try anyway. And I liked it quite a lot, actually! So there you go. Wikipedia says "The story follows the lives of a mixed-race British/American family living in the United States. On Beauty addresses themes including race and blackness in America and Britain, the nature of beauty, and the clash between liberal and conservative values within academia and the cloistered world of the university." I guess that's about right. Here's the stuff I wrote down while reading this:- Why is this supposed to be "funny"? I enjoyed it, but it made me angry a lot of the time (especially the way Howard and Monty acted, and how stupid Levi was at the end). I liked Zora's carefully-constructed image of herself collapsing when she got angry, but... I don't think I'd describe any of it as "funny". It was amusing in places, but no more than general life is.- I don't like reading books where accents are represented by weird spelling (see: Harry Potter). In this book it seems to be used as a class indicator (accent = non-academic) but I don't think it was consistent, and anyway I don't know American accents well enough to distinguish between them in text form.- I really love Zadie's writing style, it's very visual.
Review by cinesnail88
16/06/2015
No matter what I seem to expect going into Smith's work, I'm always thrown a little off guard. After reading several of her novels, I still can't quite get the hang of her style. That said, I really enjoyed this novel, particularly the ending.
Review by Arvoitus
16/06/2015
A great book. Rivalry between university teachers, intellectual matters ad so on. This inextricably mixed with love affairs and broken hearts. Two families in pain, divorce is threatening in one when the other is struck by death. The plot's not really complex but clever and finely drawn.The background is the University life with its special rules and subtle plots. But the very subject could be beauty ; of women, paintings and souls.