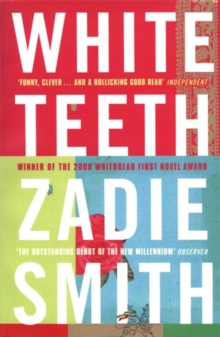 Description
Zadie Smith's White Teeth is a classic international bestseller and an unforgettable portrait of LondonOne of the most talked about fictional debuts ever, White Teeth is a funny, generous, big-hearted novel, adored by critics and readers alike.
Dealing - among many other things - with friendship, love, war, three cultures and three families over three generations, one brown mouse, and the tricky way the past has of coming back and biting you on the ankle, it is a life-affirming, riotous must-read of a book.'Funny, clever ... and a rollicking good read' Independent 'An astonishingly assured debut, funny and serious ...
I was delighted' Salman Rushdie'The almost preposterous talent was clear from the first pages' Julian Barnes, Guardian'Quirky, sassy and wise ... a big, splashy, populous production reminiscent of books by Dickens and Salman Rushdie ... demonstrates both an instinctive storytelling talent and a fully fashioned voice that's street-smart and learned, sassy and philosophical all at the same time' New York Times'Smith writes like an old hand, and, sometimes, like a dream' New Yorker'Outstanding ...
A strikingly clever and funny book with a passion for ideas, for language and for the rich tragic-comedy of life' Sunday Telegraph'Do believe the hype' The Times'Relentlessly funny ... idiosyncratic, and deeply felt' Guardian
Information
Format: Paperback
Pages: 560 pages
Publisher: Penguin Books Ltd
Publication Date: 25/01/2001
ISBN: 9780140276336
Other Formats
EPUB from £4.99
Paperback from £7.65
Free Home Delivery
on all orders
Pick up orders
from local bookshops
Reviews
Showing 1 - 5 of 16 reviews.
Previous | Next
Review by piefuchs
16/06/2015
I read this book when it came out and was heralded as brillant. For the first half or so of the book I agreed - finding it well written with engaging characters. As the book progressed however. the plot failed to truly materialize and then took strange turns which left one wondering what all the fuss was about.
Review by francescadefreitas
16/06/2015
This book has been on my unread guilt list for ages, but once I was a few pages along, I was sucked right in to the story. I read it in tiny bits while entertaining heaps of visitors, but I was still able to get right back into the world and mood each time I picked it up. I was delighted to find that this was one prize winner that exceeded my expectations.
Review by timj
16/06/2015
Brilliant OTT dialogue across distinctive cultural divides. Biting satire, yet ultimatley a warm portrayal of human beings and all their hilarious weaknesses.
Review by siew
16/06/2015
...What I found, was a cacophony of a novel, riddled with the idiosyncrasies of these outrageous characters of English, Jamaican, Jewish and Bangladeshi descent. You have a teenage Jamaican beauty with a noticeable lack of all her upper teeth, desperate to flee her Jehovah's Witness mother, and her newly converted first love, with the only route being a marriage to a middle aged, atheist (yet indecisive) Englishman. An arranged marriage between an equally middle aged Bangladeshi 'war hero' who fiercely prides himself on his Mangal Pande and Islamic lineage, with an equally young Bangladeshi bride who is more than his match in the wrestling ring. Finally, the weirdest, most scientific Jewish family that is referred to its members through noun, verbs and adjectives. Underscore all of this with a pair of extremely and fundamentally opposed twins, an overweight half-caste and buck-teethed girl hopelessly in love with one of them, an overweight and unpopular boy hopelessly in love with her, the end of the world and a smug brown mouse, and you've got the makings of a thoroughly enjoyable read.When meshed together, these colourful characters and their friends, give rise to a celebration of life - laughing and loving. Smith's characterisation was superb, and her satirical prose had me in stitches in parts (Ahmed-Mickey et. al, for example), often prompting my husband (usually sitting on his laptop in the same room) to wonder what the heck was so funny. It was just so thoroughly engaging, and the beginning was, to me, a 'You had me at "Hello"' moment.Despite being so sickeningly gushable, White Teeth does of course have its drawbacks. I found some characters at times irksome, and the passage of growth for one of the twins, while amiss for an understandable reason, did not help me to appreciate his emotional and mental makeup, and hence when he was thrown into the mix later in his life, I could not relate to him, could not figure out why he was so darn annoying.At times, Smith is also borderline preachy. The passionate and eloquent oratory that is spewed forth onto the ranks of seats and passengers in a bus on New Year's Eve 1992 was, to me, awkward and uncharacteristic of a normally reliable character. Furthermore the ending was too neat, tied up at ends that needed to be seen to be resolved, not just resolved and related to us after the fact. Ideally, it should either have cut off sooner than it did, or Smith should have expended more pages to get to 1999. If the latter, I would beg Smith to explain why the twins went to the same punishment in what ostensibly was mute meakness and unity. For that matter, could anyone please explain this to me?Faults aside, from the onset the novel is of the 'unputdownable' calibre, and one of those contemporary works that you should read. If, after all this time you haven't read it (and considering lazy moi has), I assure you, it is a deprivation, and one that you should quench sooner rather than later.
Review by pedalinfaith
16/06/2015
So many have raved over this debut novel. One thing that I agree with: Zadie Smith can write. Her style is humorous and visual, lending the feeling that she has direct access to the Western reader's generous storehouse of personal, quirky images and random cultural symbols. Despite her crackerjack facility with imagery, I couldn't get past page 70. Rather than bringing out the endearing idiosyncracies that would make her otherwise simply pathetic characters multi-dimensional, her humor takes a disdainful aim at them, turning each chapter into an exercise in bearing the pointlessness of their lives. Spending time in the world of Archie, Clara, Samad, Alsana, and the other few characters that I had a chance to meet early on was like finding myself, out-of-town, at a friend's neighbor's cousin's cocktail party: I had nothing to say to these people, and they had nothing to say to me. According to other reviewers, this cocktail party gets more lively and dangerous. But I couldn't find in it the inspiration for the perseverance to hang out long enough to see the characters loosen up and start betraying their shallow personas.
Also in the Penguin Essentials series | View all