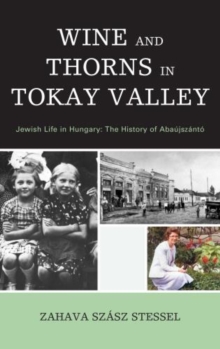 Wine and Thorns in Tokay Valley : Jewish Life in Hungary: The History of Abaujszanto
Hardback
Description
Abaujszanto is a picturesque town situated in northeastern Hungary amid vineyards and apple trees, with a cobblestoned main street.
The area is noted for its Tokay wine, which Abaujszanto's Jewish merchants were instrumental in making internationally famous.
The town's history illustrates the drama of Hungarian Jewry.
Until the eighteenth century, Abaujszanto's Jews lived outside the town walls and could enter only during daytime for business and peddling.
The emancipation of Hungarian Jewry in 1867 finally abolished all laws that denied Jews civil and political rights.
The community engaged scholarly rabbis-the most renowned of whom was Rabbi Elazar Loew (1758-1837), one of Hungary's greatest talmudic scholars, known also as Shemen Rokeah.
In this book the rabbis' biographies and an annotated bibliography of their work appear for the first time in English.
The book recounts the community's struggle and resourcefulness under the anti-Jewish laws, the steps from freedom to Auschwitz in 1944, and the disappointment after the war.
The survivors returned home to find their houses occupied and their possessions taken.
The author relates how denial of rights and the town's obligations to the Jewish community are evidenced as recently as 1992 when in a memorial, enacted to those who died in World War II, Abaujszanto omitted the loss of its Jewish residents.
This lack of empathy for the returnees and the continuous falsification of history are the saddest chapters of the post-Holocaust experience.
Based on survivors' testimonies and Hungarian archival sources, Wine and Thorns provides an authentic account of Hungarian Jewish life as it was shaped by government regulations and world politics.
Information
Format: Hardback
Pages: 344 pages
Publisher: Fairleigh Dickinson University Press
Publication Date: 12/12/2013
Category: European history
ISBN: 9781611476682
Free Home Delivery
on all orders
Pick up orders
from local bookshops
Also by Zahava Szasz Stessel