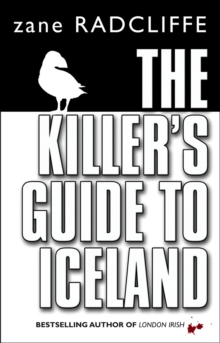 The Killer's Guide to Iceland
Paperback
Description
'Callum looked out over Reykjavik, its colourful dolls' houses snuggled together, their rooftops so sharp and precise against a blue-screen sky.
He loved this daft capital, this gale blown toy town with whalebones under its flagstones...' But Callum Pope cannot escape the horrors of his past.
He has fled his native Glasgow to make a fresh start in Iceland with Birna Sveinsdottir, the pretty glaciologist who is slowly thawing his heart.
He has moved in with Birna, her indomitable mother (who happens to believe in fairies) and her eleven-year-old daughter - who refuses to believe in Callum.
He tries hard to adjust to this new life among three generations of singular females, however, the dark secret Callum is hiding is about to raise its malign head, threatening not only to destroy his relationship but also the life of a young girl...Perceptive, expansive and chilling, The Killer's Guide to Iceland is a novel about love, loss and persistent light, from the award-winning author of London Irish.
Information
Format: Paperback
Pages: 448 pages
Publisher: Transworld Publishers Ltd
Publication Date: 01/04/2005
ISBN: 9780552772174
Free Home Delivery
on all orders
Pick up orders
from local bookshops
Reviews
Showing 1 - 2 of 2 reviews.
Review by lenoreva
16/06/2015
I picked this up before a trip to Iceland and read it there, so I can confirm that the atmosphere of the book is very authentic. Twisty plot and interesting characters elevate what could have been a more run-of-the-mill cross between a travelogue and mystery novel.
Review by isabelx
16/06/2015
Sigríður bristled as if she wasn't yet ready to tolerate such a public display of affection. 'Birna, fetch this young man a beer and I will feed him some fish', she barked, as though Callum was a performing seal. She offered him a bowl that appeared to contain several ripped-up tufts of bright yellow loft insulation. 'This is harðfiskur,' she explained. 'Dried fish. We hang the catch out on racks and when the gulls lose interest in it, we consider it ready to eat.'When Glaswegian Internet entrepreneur Callum Pope moves to Iceland to live with his girlfriend Birna and set up a company arranging locations for films, things don't go smoothly. Birna's 11-year-old daughter Asta resents him, while her mother Sigríður unnerves him by seeing darkness in his aura and a shadowy woman standing at his shoulder.Why did Callum so suddenly sell his business at a bargain price, and up sticks to another country? What is the dark secret from his past that could put his new family in danger?Zane Radcliffe certainly has an amusing way with words; blind ponies, elves, highly-explosive artificial geysers, all-terrain vehicles that come with a moonroof as standard, a policeman who likes to use his handcuffs every now and then to stop them rusting up, and the strange foodstuffs that Sigríður serves up for Callum, all help to lighten the tense atmosphere of the book. This is a very enjoyable thriller, which, as the title suggests, also serves as a guide to Iceland and the Icelanders.Finished just in time, as I'm off to Iceland on holiday at the weekend!