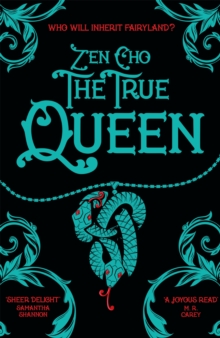 Description
Fairyland's future lies in doubt . . . The enchanted island of Janda Baik, in the Malay Archipelago, has long been home to witches. And Muna and her sister Sakti wake on its shores under a curse, which has quite stolen away their memories.
Their only hope of salvation lies in distant Britain, where the Sorceress Royal runs a controversial academy for female magicians.
But the pair travel via the formidable Fairy Queen's realm, where Sakti simply disappears. To save her sister, Muna must learn to navigate Regency London's high society and trick the English into believing she's a magical prodigy.
But when the Sorceress Royal's friends become accidentally embroiled in a plot - involving the Fairy Queen's contentious succession - Muna is drawn right in.
She must also find Sakti, break their curse and somehow stay out of trouble.
But if fairyland's true queen does finally return, trouble may find her first . . . The True Queen is Zen Cho's spelling binding second book.
It's set in a sparkling version of Regency London, with a fairy tale twist. And although it's set in the same world as her award-winning novel, The Sorcerer to the Crown, this reads as a standalone. `A sheer delight from beginning to end'Samantha ShannonA joyous mash-up of Jane Austen and high fantasy'M.
R. Carey
Information
Format: Hardback
Pages: 384 pages
Publisher: Pan Macmillan
Publication Date: 21/03/2019
Category: Fantasy
ISBN: 9781509801077
Other Formats
Paperback / softback from £7.89
Also in the Sorcerer to the Crown novels series