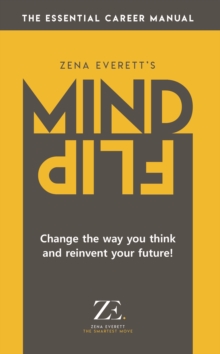 Mind Flip : Change the Way You Think About Yourself and Reinvent Your Future
Paperback / softback
Description
Mind Flip is a new must-read career manual for anyone looking to change jobs, achieve promotion or find more fulfilling work.
Written for all career stages from Graduate to Granddad, including Mum Returners, over 50s, women in business and the new self-employed, it is the culmination of Zena's many years of working in recruitment and career coaching. Mind Flipping is to flip your focus away from yourself and instead look outwards - on to the value you add and the problems you, uniquely, can solve for other people. Graham Norton believes that this philosophy will help you transform the way you look at your career - for ever!
The book provides you with everything you need to fire up your career, on the future of recruitment and talent management. The first part Figure It Out will help you figure out the unique value you provide.
Why should someone hire you, or use your services? The second part Crack On gives you the practical tools and techniques to launch your job search, in the quickest and most straightforward way, to find a new job, gain promotion or find the freelance work you want.
The third section Just For You is if you need extra help to get you to where you want to be (as a freelancer, returner, working Mum, over 50s, graduate or disabled job seeker).
The final part Fulfill It helps you to keep going, to maintain your network, keep raising the bar on your aspirations and achieve the ambitions you previously thought were impossible; or maybe you didn't know you had.
It even includes a chapter on when things can go wrong - such as working for a Narcissistic Boss - and what to do about them.
Free Home Delivery
on all orders
Pick up orders
from local bookshops