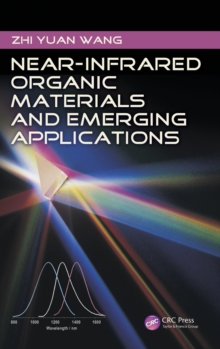 Near-Infrared Organic Materials and Emerging Applications
Hardback
Description
To physicists and chemists, color means light-emission, absorption, spectrum, and coloration.
Near-Infrared Organic Materials and Emerging Applications presents knowledge and applications of invisible "colored" organic materials.
Near-infrared (NIR) materials are defined as substances that interact with NIR light, namely, absorption and reflection, and emit NIR light upon stimulation, for example, photoexcitation, electric field, and chemical reaction.
This book offers up-to-date information on low band-gap organic materials with unique near-infrared absorbing, fluorescent, and photovoltaic properties for various emerging applications.
The author emphasizes the chemistry of materials, in particular the structure-property relationship of near-infrared organic compounds and polymers.
The text discusses the molecular design aspect of NIR materials, including effects of conjugation length and donor-acceptor charge transfer.
Chapters also cover information on the structures and key properties of NIR organic compounds, such as those containing rylene, polymethine, and metal-complex chromophores, as well as polymers, including nonconjugated NIR-absorbing, conjugated dye-containing, and donor-acceptor conjugated polymers. The final chapter describes emerging applications of NIR organic materials based on absorbing, chromogenic, photosensitizing, photovoltaic, and fluorescent properties, as well as applications of low band-gap compounds and polymers in ambipolar organic transistors.
Presenting useful data and thought-provoking ideas, this book provides a practical reference on optical properties and structures of NIR organic materials and their design principles and applications.
Information
Format: Hardback
Pages: 186 pages, 4-page color insert 8 figures follows page 22
Publisher: Taylor & Francis Inc
Publication Date: 08/05/2013
Category: Microwave technology
ISBN: 9781439861936
Other Formats
Paperback / softback from £48.95
PDF from £37.79
Free Home Delivery
on all orders
Pick up orders
from local bookshops
Also by Zhi Yuan Wang