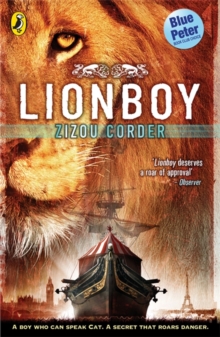 Description
Charlie Ashanti, the hero of LIONBOY, speaks cat - the language of all cats wild and domestic alike.
His unusual talent helps him on his quest to find his kidnapped parents who have discovered a cure for asthma.
The local cats of his home town (a futuristic London) start him on his search to solve the mystery of his missing parents, which leads him across the channel on board a circus ship bound for Paris.
It is on this wonderful vessel that Charlie establishes a close relationship with the homesick circus lions who become his accomplices.
But Charlie is in danger, for close behind him on his trail, is a crony of the mysterious group who have kidnapped his parents.
They want Charlie too.
Information
Format: Paperback
Pages: 352 pages
Publisher: Penguin Books Ltd
Publication Date: 01/05/2004
Category: General
ISBN: 9780141317267
Other Formats
Paperback from £6.09
EPUB from £3.99
Free Home Delivery
on all orders
Pick up orders
from local bookshops
Reviews
Showing 1 - 4 of 4 reviews.
Review by Clurb
16/06/2015
Classic adventure story replete with lions, big enjoyable characters, and a circus. Very readable, fast paced and highly entertaining.
Review by yonitdm
16/06/2015
Fantastic! A truly imaginative book with creative setting characters and plot. Not the same old recycled adventure! My only peeve is that the end hangs . . . I like closure! I can't wait to read the rest in the series.
Review by devilish2
16/06/2015
Inventive book set sometime in the future, post-environmental apocalypse.
Review by ArkhamReviews
16/06/2015
There are a couple of things that Lionboy does very well. It possesses a very unique premise and contains a very strong male lead. However, beyond this it has a lot of problems.Firstly, this novel is marketed as having appeal for children and young adults but personally I don't see it. It's a children's book, plain and simple. The language and plot structure are far too simplistic to have any real appeal for an older audience.The pacing is painfully slow in places. Although the start and end of the novel are fairly exciting, the long middle section aboard the circus ship is very slow and repetitive. The same events seem to happen again and again, leading me to feel as though they are padding.The secondary cast of the novel is also incredibly forgettable, both human and feline. Most of the circus crew blend into the background while Charlie's parents behave so childishly that it makes me question if the really could ever have obtained their degrees.The concept of this novel is interesting enough, if you're curious, but beyond this the story is largely forgettable.