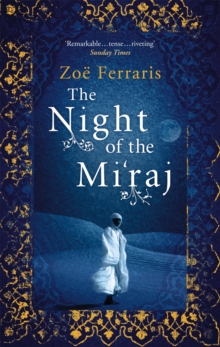 The Night of the Mi'raj
Paperback
Description
When Nouf ash-Shrawi, the sixteen-year-old daughter of a wealthy Saudi dynasty, disappears from her home in Jeddah just days before her arranged marriage, desert guide Nayir is asked to bring her home. But when her battered body is found, Nayir feels compelled to uncover the disturbing truth, travelling away from the endless desert to the vast city of Jeddah, where, most troubling of all, Nayir finds himself having to work closely with Katya Hijazi, a forensic scientist.
The further into the investigation he goes, the more Nayir finds himself questioning his loyalties: to his friends, faith and culture.
Information
Format: Paperback
Pages: 368 pages
Publisher: Little, Brown Book Group
Publication Date: 01/04/2009
Category: Crime & mystery
ISBN: 9780349120324
Free Home Delivery
on all orders
Pick up orders
from local bookshops
Reviews
Showing 1 - 5 of 6 reviews.
Previous | Next
Review by Welshwoman
16/06/2015
I was not aware of this book until I read a review of Zoe Ferraris's second novel in the newspaper a couple of weeks ago. I was intrigued and sent for the first novel. This is a really good and absorbing story which gives a fascinating insight into the lives of women in Saudi Arabia (and the lives of men for that matter). I'll look forward to reading her next novel.
Review by smik
16/06/2015
It is not often that crime fiction readers get the chance to get right inside the skin of another society, but this is what I feel Zoe Ferraris does for us in THE NIGHT OF THE MI'RAJ.My guess is that I already have some understanding from practical experience of how Islamic society works, but the novel showed me much greater depth.The characters of Nayir and Katya are so well drawn. Nayir is a Palestinian often mistaken for a Bedouin. He has been employed by the family in the past as a desert guide, and this time to find out the truth about Nouf's disappearance. So he is not a policeman, not even a detective. Katya on the other hand is well qualified in forensic medicine but is a woman, trying to be "modern" in an Islamic world. The picture of each of them trying to bide by convention, Nayir because he wants to, Katya because she must, is carefully drawn.I've included the author's note about the novel's title because in this case I think I actually concur with its renaming to FINDING NOUF. The title THE NIGHT OF THE MI'RAJ really has little meaning for the non-Islamic reader unless you are prepared to do some research, although it would obviously be charged with significance for the Islamic one. So I think the Islamic reader would explore the meaning of that title in a way that I never would.On the other side of the coin though I have noted what the publisher says about this being a literary novel and coupled that with what the author says about Nayir's journey. I think I understand that Ferraris didn't see herself as primarily writing crime fiction. The investigation into the death of Nouf is really just a back drop to Nayir and Katya showing what it is like to be Islamic in the modern world. From that point of view alone the novel, whatever its title, is fascinating.
Review by RobinDawson
16/06/2015
Night of the Mi'raj is quite a gripping murder mystery, and the bonus is it paints quite a vivid picture of Muslim culture and the tensions between families and genders as the traditional ways are forced to change by modern/Western values. It reminded me of Sweetness in the Belly by Camilla Gibb - another excellent book about Muslim culture, although this one is set in Ethiopia. Having lived in these countries both authors are able to really bring the culture alive.
Review by DubaiReader
16/06/2015
Fascinating.This was a fascinating read, particularly from the point of view of the interactions between Saudi Arabian men and women. Although based around a murder within the community, the who-done-it side of the narrative seemed secondary to the insights into such a closed society.Nayir is a desert guide, often mistaken as a Bedouin. He is asked by the family of the victim to escort a private detective into the area of the desert where the body of 16yr old Nouf was found.Katya, the fianceé of the victim's brother, is also working in the District Examiner's Office and she brings her professional expertise into solving the murder.Working together proves especially problematic for Nayir, as he is extremely devout and finds any contact with women, particularly unveiled, supremely uncomfortable. It is a wonder that anything is solved at all, when both parties withold information due to embarassment and the family is rich enough to persuade the District Govenor's Office that it was all an accident.A most unusual crime mystery that I would highly recommend. I have already borrowed the second book in the series (City of Veils) from the library and can't wait to get stuck in.
Review by chinquapin
16/06/2015
A sixteen year old girl from a wealthy family in Saudi Arabia goes missing in the desert and Nayir ash-Sharqui, a Palestinian desert guide and close friend of the family, is asked to try and find her. All that is found is her dead body, which points to murder. Nayir then begins to investigate why Nouf had run away and, in the process, uncovers many hidden secrets and a troubled family. An interesting part of this story was the depiction and seeming discussion about the role of women and their extreme segregation in Saudi Arabia. Nayir is a religious conservative who believes that the laws for wearing the burqa protect women, but he is also a thoughtful, kind man and is conflicted when he meets Katya who is working in the criminal investigation laboratory who feels very stifled by these laws. He is also aware of how these laws make it nearly impossible for a man like himself with no family ties in Saudi Arabia to meet a respectable young lady and marry. As a reader, the view into this very closed Islamic society was very intriguing to me, and I found myself drawn into the mystery and sympathetic towards the main characters. Reading this book was a highly rewarding experience, and it is one whose story and characters will stay with me for a long time.