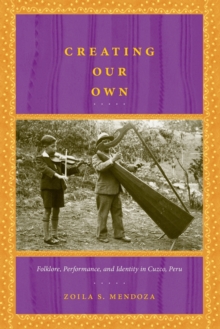 Creating Our Own : Folklore, Performance, and Identity in Cuzco, Peru
Paperback / softback
Description
In Creating Our Own, anthropologist Zoila S. Mendoza explores the early-twentieth-century development of the "folkloric arts"-particularly music, dance, and drama-in Cuzco, Peru, revealing the central role that these expressive practices played in shaping ethnic and regional identities.
Mendoza argues that the folkloric productions emerging in Cuzco in the early twentieth century were integral to, rather than only a reflection of, the social and political processes underlying the development of the indigenismo movement.
By demonstrating how Cuzco's folklore emerged from complex interactions between artists and intellectuals of different social classes, she challenges the idea that indigenismo was a project of the elites.Mendoza draws on early-twentieth-century newspapers and other archival documents as well as interviews with key artistic and intellectual figures and their descendants.
She offers vivid descriptions of the Peruvian Mission of Incaic Art, a tour undertaken by a group of artists from Cuzco, at their own expense, to represent Peru to Bolivia, Argentina, and Uruguay in 1923-24, as well as of the origins in the 1920s of the Qosqo Center of Native Art, the first cultural institution dedicated to regional and national folkloric art.
She highlights other landmarks, including both The Charango Hour, a radio show that contributed to the broad acceptance of rural Andean music from its debut in 1937, and the rise in that same year of another major cultural institution, the American Art Institute of Cuzco.
Throughout, she emphasizes the intricate local, regional, national, and international pressures that combined to produce folkloric art, especially the growing importance of national and international tourism in Cuzco. Please visit the Web site http://nas.ucdavis.edu/creatingbook for samples of the images and music discussed in this book.
Information
Format: Paperback / softback
Pages: 256 pages, 16 b&w photos
Publisher: Duke University Press
Publication Date: 15/01/2008
Category: Cultural studies
ISBN: 9780822341529