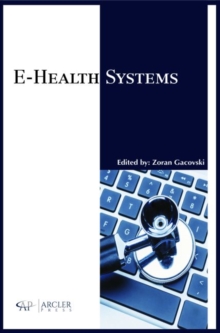 E-Health Systems
Hardback
Description
The purpose of the e-health systems is to provide information regarding the medical status of persons (patients) by using the global information networks and related technology.
This patient info will always be available, regardless of the location of the individual, the medical staff, or the media on which data are stored, and no matter which system or platform is used for processing of the health records. The usage of information technology will enable changes in the health care system, in order to improve the patient care and public health, reduce costs, save money and time, and provide information for technical, scientific, administrative, bookkeeping and managerial use.
Health Information System (HIS) should be the basis of the health care system as a whole.
It will allow authorized entities' access to information, accurate costs estimation and control parameters for each participant in the system. This edition covers different topics from electronic health and medical informatics, including tools and procedures on how to adopt the e-health methods in the existing health care systems. Section 1 focuses on organizational and management issues in the e-health systems, describing recommendations to healthcare data exchange in an interoperable environment, evolution, use, and effects of personal health records, a healthcare information security governance framework, accountable e-health systems, and integration of information systems for managing a national access to surgery.
Section 2 focuses on technical aspect of the e-health systems, describing e-health and telemedicine, performance evaluation of healthcare monitoring system over heterogeneous wireless networks, wireless monitoring of patient's vital signs, empowering patients through personal health records, and patient-clinician relationship within a technological milieu.
Section 3 focuses on intelligent and mobile e-health systems, describing a methodological case study in simulation of diabetes progression, real time clinical decision support system, mobile health monitoring, and how to empower diabetes patient with mobile health technologies.
Section 4 focuses on case studies from different countries, describing integration of health care services embedded in medical commercial devices in Brazil, ranking of e-health barriers faced by Saudi Arabian citizens, limitations of hospital ward quality monitoring reporting in Australia, and perception of end users on I-Kelahiran in Sabah, Malaysia.
Information
Format: Hardback
Pages: 275 pages
Publisher: Arcler Education Inc
Publication Date: 01/11/2017
Category: Health systems & services
ISBN: 9781773610788
Free Home Delivery
on all orders
Pick up orders
from local bookshops