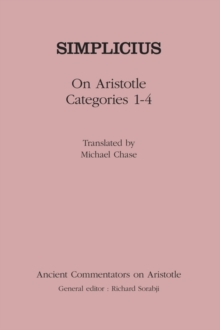 On Aristotle "Categories 1-4"
Hardback
Description
Simplicius' commentary on Aristotle's "Categories" is the most comprehensive philosophical critique of the work ever written, representing 600 years of criticism.
In his "Categories", Aristotle divides what exists in the sensible world into ten categories of Substance, Quantity, Relative, Quality and so on..
Simplicius starts with a survey of previous commentators, and an introductory set of questions about Aristotle's philosophy and about the "Categories" in particular.
The commentator, he says, needs to present Plato and Aristotle as in harmony on most things.
Why are precisely ten categories named, given that Plato did with fewer distinctions?
We have a survey of views on this. And where in the scheme of categories would one fit a quality that defines a substance? - under substance or under quality? In his own commentary, Porphyry suggested classifying a defining quality as something distinct, a substantial quality, but others objected that this would constitute an eleventh.
The most persistent question dealt with here is whether the categories classify words, concepts, or things.
Information
Format:Hardback
Pages:256 pages
Publisher:Bloomsbury Publishing PLC
Publication Date:31/10/2003
Category:
ISBN:9780715631973
Also by of Cilicia Simplicius | View all
Also in the Ancient Commentators on Aristotle series | View all