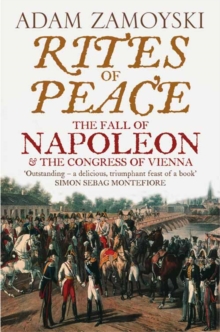 Rites Of Peace: The Fall Of Napoleon and the Congress of Vienna
Paperback
Description
Following on from his epic '1812: Napoleon's Fatal March on Moscow', bestselling author Adam Zamoyski has written the dramatic story of the Congress of Vienna.
In the wake of his disastrous Russian campaign of 1812, Napoleon's imperious grip on Europe began to weaken, raising the question of how the Continent was to be reconstructed after his defeat.
There were many who dreamed of a peace to end all wars, in which the interests of peoples as well as those of rulers would be taken into account.
But what followed was an unseemly and at times brutal scramble for territory by the most powerful states, in which countries were traded as if they had been private and their inhabitants counted like cattle.
The results, fixed at the Congress of Vienna in 1815, not only laid the foundations of the European world we know; it put in place a social order and a security system that lie at the root of many of the problems which dog the world today. Although the defining moments took place in Vienna, and the principle players included Tsar Alexander I of Russia, the Austrian Chancellor Metternich, the Duke of Wellington and the French master of diplomacy Talleyrand, as well as Napoleon himself, the accepted view of the gathering of statesmen reordering the Continent in elegant salons is a false one.
Many of the crucial questions were decided on the battlefield or in squalid roadside cottages amid the vagaries of war. And the proceedings in Vienna itself were not as decorous as is usually represented.
Drawing on a wide range of first-hand sources in six languages, which include not only official documents, private letters, diaries and first-hand accounts, but also the reports of police spies and informers, Adam Zamoyski gets below the thin veneer of courtliness and reveals that the new Europe was forged by men in thrall to fear, greed and lust, in an atmosphere of moral depravity in which sexual favours were traded as readily as provinces and the 'souls' who inhabited them.
He has created a chilling account, full of menace as well as frivolity.
Information
Format: Paperback
Pages: 416 pages
Publisher: HarperCollins Publishers
Publication Date: 01/02/2008
Category: European history
ISBN: 9780007203062
Free Home Delivery
on all orders
Pick up orders
from local bookshops
Reviews
Showing 1 - 2 of 2 reviews.
Review by sloopjonb
16/06/2015
This book is mainly about the 1815 Congress of Vienna, at which there was some frenetic diplomacy, a lot of fornication, and an amazing amount of dancing. Again, it is the stories that are fascinating; such as the Austrian secret police report on one of the British delegates, which noted that he, a friend and some very loose women had taken a Viennese house and 'turned it into a f---ing shop'. Zamoyski casts a caustic eye on these and other shenanigans, and shows how Waterloo and The Hundred Days was all Tsar Alexander's fault (because he was an impulsive fathead, and set Napoleon up in Elba without consulting any of his allies first); how the British claim to be the disinterested brokers of Europe was so much humbug; and chiefly, how desperately tawdry and cynical the whole business was. The fascinating cast includes, besides Alexander, sliding from swollen-headed arrogance to religious mania, Napoleon, Wellington, Metternich, Castlereagh, Beethoven, Blucher and an assortment of ladies of dubious virtue.
Review by Malarchy
16/06/2015
Rites of Peace by Adam Zamoyski is an epic. At around 570 pages it is a thorough description of the people, events, and decisions surrounding the Congress of Vienna 1814-1815. Zamoyski provides a very readable account of a defining moment in European history starting with the very throes of Napoleon's France through to his eventual despatch to St Helena and the conclusion of the diplomatic concert that redrew Europe.Zamoyski draws from a large number of sources especially the personal correspondence of the main actors. The copious letters and notes they drafted provides a treasure trove for historians. Zamoyski points out in his introduction the distinct absence of analytical coverage of the Congress of Vienna and indeed it is a surprisingly sparse field. With so much ink having been devoted to the all-conquering Napoleonic France, the lack of literature on the Congress is quite some gap. Zamoyski has filled the niche incredibly. His is an incredibly easy read for a 570 page treatise on a diplomatic negotiation. The personalities involved burst from the page, their interests and activities giving them rounded personalities. Much of Zamoyski's work is about the people rather than just their deeds. The most prominent players at the Congress have plenty of pages devoted to them. Metternich, Castlereagh, and Alexander are the leads. Each of them is described in detail, their foibles exposed and analysed, their successes and their intrigues plotted out through the various turns of the negotiation.While Zamoyski is describing a process and the people involved in it, he has also set out an entire class of person who existed in early 19th century Europe. Much like the generals for hire who fought for various causes in their careers, the statesmen involved appear as an elite and highly mobile cadre often promoting aims for leaders who were not of their own nationality. Another class of person featured heavily in Zamoyski's work is the ambitious socialite woman. Zamoyski's tale is not just of the great men who changed the world around them but also the women who sought to profit and enjoy themselves along the way. At times the work reads a little less like a dedicated historical analysis and more like a breathless celebration of scandal and gossip. The number of balls and illicit encounters threaded throughout the work sometimes outweighs the limited progress the negotiations make.Indeed, Zamoyski may have been better off not replicating all of the soiree information and devoting a little more to the negotiation. It is ultimately the diplomatic dance that makes the Congress of Vienna a special moment in time rather than the socialising it has become notorious for.The various phases of diplomatic action are the most fascinating parts of the work. The initial phase of battlefield diplomacy as Russia, Prussia, Austria, and Britain attempt to move themselves into the right positions as they converge on Paris. Of course it is Russia who gets to Paris first, setting the tone for the next couple years of negotiation battle. Alexander of Russia is the primary figure, his decisions seemingly often influenced only by his latest whim, the archetype of the monarch as despot unaware of the implications of his actions. Getting to Paris first really seems to have given Alexander a first mover's advantage he never relinquished. For all his dancing and later mysticism, he is really the dominant figure of the Congress by Zamoyski's analysis. His obstructionism frustrates his allies in the later phases of negotiation, especially in securing his unusual aims for Poland as a nation under his rule as Russian Emperor. The phases of the Congress itself often read like the worst excesses of the UN in the modern environment, small issues derailing the best of aspirations, and dogma getting in the way of progress. Zamoyski is particularly positive about the skills of French delegate Tallyrand. It is Tallyrand who displays by far the most skill in negotiation, clearly using techniques still credible today. Of all the participants, it is only Tallyrand who coes out with credit under Zamoyski's analysis. He is somewhat scathing about pretty much everyone else. In particular the British diplomats do not seem to fare well, clumsily failing to take advange of opportunities especially in the early going and finding themselves out-played frequently.Of all the many characters present though it is the King of Württemberg who comes in for by far the most criticism. It is not clear exactly what Zamoyski has against him but every description is a rendition of Württemberg as a contemptuously obese monster. It is all these second tier characters though which make Rites of Peace so excellent. The comprehensive coverage of the many issues at stake and the players involved works so well. The issues which carried on throughout much of the discussion seem never to have really been resolved. The Polish, Saxon, and Dutch questions were never really dealt with. Taking decisions on these kind of major issues requires serious leadership of a type that seems not to have been present at the Congress.What was present though was pioneering diplomatic process. This must have been down to the combination of Metternich and Congress facilitator Gentz. The setting up of sub-committees to handle various lesser points in smaller groups is the way such matters have been dealt with ever since. It would have been nice to have seen a little more of how these sub-committee played out rather than their being reported on generically. The description of negotiators from States such as Spain and Portugal being difficult and obstructive when they owed their very existence to those they were being difficult to is a snapshot in time that could be entirely contemporary today.The step-change in the pace of negotiation comes with the return of Napoleon and the Waterloo campaign. It all seems a bit of a rush compared to the turgid speed of the main negotiations. Zamoyski also rushes it a little, not giving a huge amount of space to the final decisions following Waterloo.Once the discussions are over, Zamoyski's conclusion is really quite negative. Having been slightly critical of various actors throughout, especially of their personal failings, Zamoyski's own analysis in the final chapter is entirely negative. The Congress he has researchd and written about so outstandingly is a failure. It fails to solve the underlying issues within Europe, sets Britain firmly on a non-European track, leaves the fate of lesser nations such as the Poles at the mercy of others, sets Austria up for failure and Prussia up for militarised expansion. The most interesting element of Zamoyski's final analysis is the major disruption of the bonds between people and their rulers. Parcelling populations out undermines stability.Zamoyski alludes to some of the other failings of the Congress, especially the abandonment of non-major powers. The great powers of Europe make decisions for themselves but their sacrifice of places like Genoa is really unforgivable. One legacy of the Congress which Zamoyski does not really recognise is that it put in place a system to defend the interests of Nation States against more localised interests. Today the international environment still suffers from the ubiquity of State in decision making to the exclusion of everything else. The Congress snuffed out so many great historical peoples, especially the City-States. The death warrant of Genoa, various Cantons in Switzerland, and the Hanseatic cities was explicitly signed by the Congress, cementing the power of the nation over that of the city. The Congress of Vienna is a significant point in history, a possible precursor to the League of Nations, United Nations, and European Union. It is a moment in history that saw a change of eras. The people involved are fascinating and Adam Zamoyski has brought them to life magnificently. His very readable history has shone a light on the Congress, bringing it to the mainstream and providing outstanding desription of the unfolding of one of the greatest episodes of negotiation the world has ever seen.<img src="/spaceball.gif" height=1 width=1 id="book_gifcom"><div id="book_bookInformationSection">