Action & Adventure DVD & Blu-ray
Here we are proud to showcase DVD and Blu-ray titles from one of our most popular movie genres. You'll find all the bestselling films from new releases to our back catalogue of classics, all on DVD and blu-ray. From fun children's adventure films to those edge-of-your-seat action box office hits and everything in between.
Bestselling Action & Adventure Films
Explore more Action & Adventure DVD and Blu-ray
Browse Popular Action & Adventure Movies and TV Series
Action & Adventure
Features
Recently Released Bestseller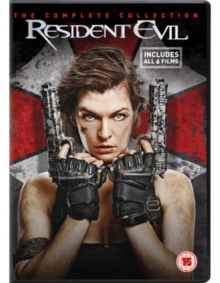 Complete collection of action films based on the popular computer game.
In 'Resident Evil' (2002) a virus has been sealed in an underground research centre known as the Hive, and Alice (Milla Jovovich) and Rain (Michelle Rodriguez) are sent in with a team of commandos to destroy it.
However, they have failed to anticipate that all the employees who were trapped in the Hive with the virus, and...
Coming Soon