Food & Drink Books
Cook up a storm in the kitchen with our huge selection of food and drinks books. We have a great variety of recipe and cook books to cover all cuisines, tastes and categories. You'll find bestsellers, new releases, pre-order titles and our current special offers. We've featured popular celebrity chefs and collections to help inspire and take your cooking further. We also have a fantastic range of cook books for vegans and those with dietary requirements including gluten and dairy free, along with, detoxing and juicing books.
Popular categories
Our recommended choice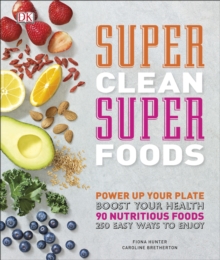 If you're feeling overwhelmed by clean eating advice, look no further.
Super Clean Super Foods is the ultimate nutritional guide to superfoods, telling you all you need to know to power up your plate. Super Clean Super Foods offers an introduction to over 90 delicious superfoods including quinoa, acai, buckwheat, chia seeds, kale, tumeric, coconut, and matcha, showing you the nutritional benefits...
Popular Celebrity Chefs & Series
Female Chefs
Male Chefs
Series & Collections
International Cuisine
Nigella Lawson
Her books include: Simply Nigella, How to Eat and How to be a Domestic Goddess.
Jamie Oliver
His books include: Everyday Super Food, The Naked Chef and 30-Minute Meals.
The Great British Bake Off
Featuring GBBO Everyday: Over 100 Foolproof Bakes, Big Book of Baking and GBBO Christmas.
Madhur Jaffrey
Her books include: Curry Easy, Madhur Jaffrey's Curry Nation and Ultimate Curry Bible.
Mary Berry
Her books include: Cookery Course, Absolute Favourites and her Christmas Collection.
Gordon Ramsay
His books include: Ultimate Cookery Course, Healthy Appetite and Christmas with Gordon.
The Primrose Bakery
Featuring Primrose Bakery Christmas, Bakery Everyday and The Primrose Bakery Book.
Gino D'Acampo
His books include: Islands in the Sun, Pronto! Let's Cook Italian in 20 Minutes and Italian Home Baking.
Delia Smith
Her books include: How to Cook, Complete Cookery Course and How to Cheat at Cooking.
Ainsley Harriott
His books include: Just Five Ingredients, The Feel-Good Cookbook and My Kitchen Table.
Leon
Featuring Leon: Fast Vegetarian, Leon: Family and Friends and Leon: Ingredients and Recipes.
Yotam Ottolenghi
His books include: Nopi: The Cookbook, Jerusalem and Ottolenghi: The Cookbook.
Lorraine Pascale
Her books include: How to be a Better Cook, A Lighter Way to Bake and Baking Made Easy.
Rick Stein
His books include: Mediterranean Escapes, Far Eastern Odyssey and From Venice to Istanbul.
River Cottage
Featuring Love Your Leftovers, The River Cottage Meat Book and River Cottage Veg Everyday.
Ken Hom
His books include: Complete Chinese Cookbook, Simple Thai Cookery and Exploring Asia.
Elizabeth David
Her books include: On Vegetables, English Bread & Yeast Cookery and A Taste of the Sun.
Nigel Slater
His books include: Eat - The Little Book of Fast Food, The Kitchen Diaries and Real Food.
The River Cafe
Featuring The River Cafe Cookbook, Classic Italian Cookbook and Italian Kitchen.
Tessa Kiros
Her books include: Food from Many Greek Kitchens, Falling Cloudberries and Venezia.