Science Fiction DVD & Blu-ray
Explore the depths of space and time with our selection of Science Fiction DVD and Blu-ray. Explore space with huge TV shows and blockbuster movies in the Star Trek series, travel in time with Doctor Who and find out the truth with Mulder and Scully in X-Files.
If you are looking for some movies to get lost in, we have a massive range to entertain. Take a browse, and hopefully you will discover something new!
Bestselling Science Fiction DVDs
|
View All
Browse by Popular Series
Science Fiction DVD & Blu-ray
Featured
Recently Released Bestseller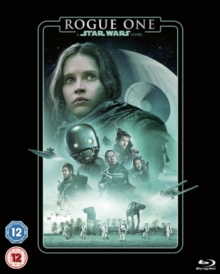 Gareth Edwards directs this sci-fi adventure set in the 'Star Wars' universe, featuring a stand-alone story written by Chris Weitz and Tony Gilroy.
After being recruited by Rebel Alliance leader Mon Mothma (Genevieve O'Reilly), former criminal Jyn Erso (Felicity Jones) is tasked with stealing the plans for the Death Star so that the weapon can be destroyed before it causes damage to the...
Top Sci-fi Releases