Children's Books
Popular Categories
Popular Children's Authors and Illustrators
Popular Children's Authors
Children's Illustrators
The YouTube Generation
Classic Children's authors
Julia Donaldson
Books include: The Gruffalo, Room on the Broom and Stick Man
Chris Riddell
Books include: the Goth Girl series, the Ottoline series and Muddle Earth.
Pewdiepie
The debut musings from the biggest YouTuber with This Book Loves You.
Judith Kerr
Books include: The Tiger Who Came to Tea and Mog the Forgetful Cat.
David Walliams
Books include: Gangsta Granny, Mr Stink and The Boy in the Dress.
Quentin Blake
Books include: Mister Magnolia, Zagazoo and Fantastic Daisy Armitage.
Zoe Sugg
Zoella's two novels are right here: Girl Online and Girl Online: On Tour 2.
Roald Dahl
Books include Matilda, Charlie and the Chocolate Factory and George's Marvellous Medicine.
Jacqueline Wilson
Books include: The Suitcase Kid, The Story of Tracy Beaker and Dustbin Baby.
Sarah McIntyre
Books include: Dinosaur Police, There's a Shark in the Bath and Jampires.
Carrie Hope Fletcher
The online agony big sister with her book about growing up, All I Know Now.
Dick King-Smith
Books include The Sheep-pig, The Hodgeheg and The Swoose.
Cressida Cowell
Books include: The How to Train your Dragon Series, and The Emily Brown Series.
Oliver Jeffers
Books include: Once Upon an Alphabet, How to Catch a Star and Lost and Found.
Tyler Oakley
Binge out on Tyler all you want here with his book.

A. A. Milne
Books include Winnie-the-Pooh, Now We Are Six and When We Were Very Young.
Eric Carle
Books include: The Very Hungry Caterpillar, and Brown Bear, Brown Bear, what do you see?.
Rebecca Cobb
Books include: Aunt Amelia, The Something and Missing Mummy.
Alfie Deyes
Get Alfie's Pointless Book and its follow up, Pointless Book 2 here.

Enid Blyton
Books include: Famous Five, Secret Seven and Malory Towers.
Top recommended title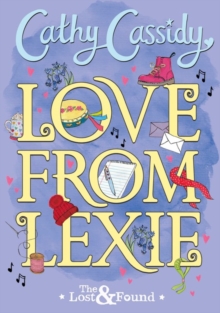 Ever since Lexie's mum vanished, her world hasn't stopped spinning.
A new home, a new school - even a new family but Lexie never gives up hope that her mum will come back and writes her letters every day to tell her all about her new life.
There's plenty to tell - the new group of misfits she calls friends, the talent for music she never knew she had and the gorgeous boy with blue eyes and secrets...