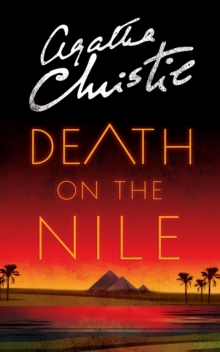 Death on the Nile
Paperback
Part of the Poirot series
Description
Agatha Christie's most exotic murder mystery, reissued with a striking new cover designed to appeal to the latest generation of Agatha Christie fans and book lovers.
The tranquillity of a cruise along the Nile is shattered by the discovery that Linnet Ridgeway has been shot through the head.
She was young, stylish and beautiful, a girl who had everything - until she lost her life.
Hercule Poirot recalls an earlier outburst by a fellow passenger: 'I'd like to put my dear little pistol against her head and just press the trigger.' Yet in this exotic setting' nothing is ever quite what it seems...
Information
Format: Paperback
Pages: 256 pages
Publisher: HarperCollins Publishers
Publication Date: 04/06/2001
Category: Classic crime
ISBN: 9780007119325
Other Formats
CD-Audio from £9.95
Paperback from £7.15
Hardback from £10.65
EPUB from £4.49
Mixed media product from £9.70
eAudiobook MP3 from £6.75
Free Home Delivery
on all orders
Pick up orders
from local bookshops
Reviews
Showing 1 - 5 of 5 reviews.
Review by gward101
16/06/2015
Death on the Nile has been lingering at the bottom of my 'to read' pile for some time - in fact ever since I picked it up on a whim at the airport on the way to a holiday in Egypt and then decided it would be too much of a cliche to be spotted reading it by the pool. The story, of course, needs no introduction - a multitude of large and small-screen adaptations have seen to that - however don't let that put you off giving the original a read. This was my first Agatha Christie book. Detective fiction isn't usually my thing, but I can honestly say I enjoyed it thoroughly. Great literature it probably isn't, but this was an author who knew how to construct a plot and how to get you to keep those pages turning.
Review by Elphaba71
16/06/2015
Loved it, Christie writes the best Murder Mysteries.
Review by DieFledermaus
16/06/2015
Just wanted a quick read and this was one. I read it straight through in a couple hours. This mystery jumps around between characters in the first part, establishing that many people have reason to hate rich, charismatic Linnet Ridgeway or at least have secrets of their own. Hercule Poirot gets a glimpse of Jacqueline de Bellefort early on and predicts that she will come to no good. On vacation in Egypt, he sees that he was right – Jackie has come to Egypt to stalk her former friend Linnet and Linnet's new husband Simon, who used to be Jackie's fiancé. The first half of the book doesn't rush to the murder but shows Poirot interacting with the characters who populate the boat that is the setting for the crime.Pennington, a trustee of Linnet's estate, is clearly a shifty character. Poirot finds Rosalie Otterbourne, a cold and bitter girl, to be secretive. Tim Allerton seems to have something against Poirot. Linnet's maid and an employee on the boat also have motives. Christie ups the difficulty of the case by giving Jackie an alibi. The multiple secrets of the suspects, plentiful red herrings and tangential crimes are perhaps standard for the genre but the solution doesn't go for the most obvious suspect or something out of left field. It was entertaining enough though the head-hopping narrative could be a bit messy and it's unlikely that there would be multiple thieves and murderers on one boat just by chance.
Review by bbbart
16/06/2015
Death on the Nile is one of the best in the Poirot series I read so far. The alibi in this case is ever so ingenious, and the side plots are intriguing as well.<br/><br/>I am proud to say however that I feel that I'm getting better at figuring out who the assassin(s) are, but Christie still manages to get me quite on the wrong foot on many of the details.<br/><br/>I like that fact that Death on the Nile is a little bit longer than the average book in the Poirot series so it has room for more descriptive narrative which adds so much to the atmosphere of the story. It's a story after all, not a puzzle.
Review by SueinCyprus
02/03/2016
Definitely one of Agatha Christie's best. Extremely clever plotting - the clues were all there, but I had no idea 'who dun it' until Poirot - as ever - revealed all. Interesting settings on a Nile cruise, and some better-than-usual characterisation. A little stilted at times, but quite gripping.