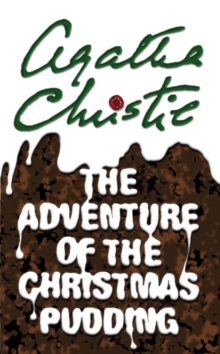 Poirot : The Adventure of the Christmas Pudding
Paperback
Part of the Poirot series
Description
Agatha Christie's seasonal Poirot and Marple short story collection, reissued with a striking new cover designed to appeal to the latest generation of Agatha Christie fans and book lovers.
First came a sinister warning to Poirot not to eat any plum pudding...then the discovery of a corpse in a chest...next, an overheard quarrel that led to murder...the strange case of the dead man who altered his eating habits...and the puzzle of the victim who dreamt his own suicide.
What links these five baffling cases? The little grey cells of Monsieur Hercule Poirot!
Information
Format: Paperback
Pages: 240 pages, 16
Publisher: HarperCollins Publishers
Publication Date: 07/10/2002
Category: Crime & mystery
ISBN: 9780007121083
Other Formats
EPUB from £4.24
Hardback from £10.65
Free Home Delivery
on all orders
Pick up orders
from local bookshops
Reviews
Showing 1 - 5 of 6 reviews.
Previous | Next
Review by riverwillow
16/06/2015
A collection of short stories - some of which have been published before. The title story is interesting - a precious ruby, intended for the wife of a prince, has disappeared, along with the prince's girlfriend. Poirot is on the case and as part of his investigation spends a traditional Christmas at an English country house - oh yes and of course he finds the ruby. But as I mentioned the other stories appear in other collections, so this really works as collection for those who haven't read too many of Dame Agatha's other collected short stories.
Review by Teipu
16/06/2015
Summary:Five entertaining cases of Hercule Poirot (3 long, 2 short), featuring a Christmas Pudding, a Spanish Chest and blueberries amongst others.And as a little extra Miss Marple solves the mystery of Greenshaw's Folly.Opinion:Much better than "Poirot Investigates"Poirot is a lot more likable, funny and the eccentric Belgian I imagined him to be. Also, the cases are a lot more refined and interesting, maybe also because Christie takes time to let them evolve. Only the last one "The Dream" was pretty predictable, but nevertheless nice."Greenshaw's Folly" was my first meeting with Miss Marple and I like her right away. She likes knitting, so only that makes her awesome (I have some kind of liking for handicrafts of any kind). Also the case was very enthralling and I like it to get to know the characters before they are murdered. The atmosphere is totally different from the Poirot stories so I can't wait to buy more books featuring Miss Marple.
Review by mauveberry
16/06/2015
This book is a collection of several Hercule Poirot short stories. There was also a Miss Marple short story, called Greenshaw's Folly, included in the edition I have. The stories were interesting, but I feel that they lacked the character development that I enjoy in Christie's full length novels.
Annual fave Agatha Christmas read. Love the English atmosphere and detailed settings of AC mysteries and this one always adds to my Christmas tradition reading enjoyment!
Review by nordie
16/06/2015
6 short stories (5 with Poirot, 1 with Marple) and most of which are well known. Didnt know Greenshaw's Folly or The Under Dog so they were new to me. First published in 1963, Poirot is getting old and tired, but it's still a while before the end of "Curtain".<br/><br/>The stories are short, and I think that some were perhaps a little too short - the denouement came too quickly and I wasnt necessarily convinced