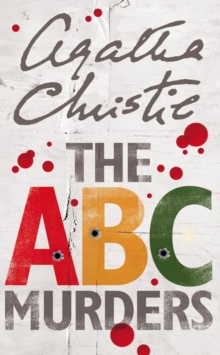 The ABC Murders
Paperback
Part of the Poirot series
Description
Agatha Christie's world-famous serial killer mystery, reissued with a striking new cover designed to appeal to the latest generation of Agatha Christie fans and book lovers.
There's a serial killer on the loose, bent on working his way through the alphabet. And as a macabre calling card he leaves beside each victim's corpe the ABC Railway Guide open at the name of the town where the murder has taken place.
Having begun with Andover, Bexhill and then Churston, there seems little chance of the murderer being caught - until he makes the crucial and vain mistake of challenging Hercule Poirot to frustrate his plans...
Information
Format: Paperback
Pages: 224 pages
Publisher: HarperCollins Publishers
Publication Date: 04/06/2001
Category: Classic crime
ISBN: 9780007119295
Other Formats
Paperback from £4.99
CD-Audio from £9.95
Hardback from £10.65
EPUB from £3.99
eAudiobook MP3 from £4.95
Mixed media product from £12.17
Free Home Delivery
on all orders
Pick up orders
from local bookshops
Reviews
Showing 1 - 5 of 6 reviews.
Previous | Next
Review by Emily.D
16/06/2015
Definitely one of the better Poirots. Unusually for Agatha Christie, a psychopathic serial killer is murdering people completely unknown to him, based only on the alphabet and an ABC railway guide. Could be seen as more modern than some of her other books. I'm not sure why I think that but the thought struck me very early on and didn't go away. There was more tension built up by the end than in some others because everyone can tell what will happen unless Poirot works out who did it, in a seemingly unsolvable mystery. Ending was both believable and completely surprising. I certainly didn't guess it, and I have a fairly good track record.
Review by mauveberry
16/06/2015
The ending was a bit unexpected, but I didn't enjoy this book as much as other Agatha Christies. I don't feel like the characters were as fleshed out as they usually are in her other books.
Review by smik
16/06/2015
A foreword to this story by Captain Arthur Hastings saysIn this narrative of mine I have departed from my usual practice of relating only those incidents and scenes at which I myself was present. Certain chapters, therefore, are written in the third person.Hastings returns to England from South America in June 1935 to put his finances in order. Mrs Hasting stays home to look after the ranch. He finds Hercule Poirot installed in a new service flat in London - a sign of the times. Poirot looks remarkably well, his hair is blacker than Hastings expects (per favour of a bottle).Poirot has tried to retire several times already but is fearful that his "little grey cells.. [will].. grow the rust". So now he only takes cases that are the "cream of crime". In his most recent case he says he had a narrow escape, he was nearly exterminated. He is however looking forward to teaming up again with Hastings.I believe in luck - in destiny, if you will. It is your destiny to stand beside me and prevent me from committing the unforgiveable error.With that he plucks from his papers a note he recently received signed A B C that challenges him, in quite unpleasant terms, to solving a mystery that will take place at Andover on the 21st of the month. Poirot fears the note may be referring to a murder.Poirot consults his old friend Inspector Japp from Scotland Yard and so the police are alerted to look out for a murder in Andover on the 21st. This duly occurs. And elderly woman, a shop keeper is struck down in her shop, and the prime suspect, but for the letter to Poirot, would have been her estranged drunken sot of a husband.This begins what appears to be a spree of killings, each with an alphabetical clue. In each case a copy of the ABC Railway Guide is left with the body. Poirot recognises this is different to the intime sort of crime he is usually called on to investigate - crimes committed by one member of a family against another. This killer appears to be psychotic and he is playing with Poirot's mind.To help him solve the crime, or perhaps to keep an eye on them, Poirot calls together all the immediate family victims of the crimes, and turns them into a sort of vigilante band. This is an unusual step but quite in line with his usual strategies, where he will make at least one of the characters a confidante.I could tell you much more, but you need to read it for yourself. As you can probably tell from the tone of what I've written above, I really enjoyed THE ABC MURDERS. There's an occasional sprinkling of humour - looking for the one about Hasting's "comb-over" - and there is tension built by Poirot's likening of the acts of a serial murderer to the roll of the dice on the roulette wheel. He says that eventually the murderer will make a mistake. We also have a red herring to contend with from almost the beginning of the story.
Review by Smiler69
16/06/2015
A serial killer sends Hercule Poirot a letter telling him about the murder he plans to commit in Andover. The victim turns out to be an old woman by the name of Alice Ascher, and an ABC train guide is found near her body. The next letter tells Poirot the murder will take place in Bexhill-on-Sea, where the young Betty Barnard is found strangled, and again the ABC guide is found near her person. While the police force and Poirot are scrambling to find the identity of the madman before he gets through the entire alphabet, two more people are killed, and while the case is complicated enough, things are not at all what they seem. This was a good, solid Poirot mystery, but I can't say I was enthralled. Is it because I was passionate about Agatha Christie novels as a teenager and devoured them like so many chocolate bonbons that the second time around doesn't seem quite as sweet? Might I have sated my hunger then? or have my memories of those first discoveries failed to evolve along with me over the years? Have I become too jaded? I don't know, maybe all of the above. There's no denying that the dame knew how to write a great crime novel, but she's influenced so many generations of writers since that it's hard for me to appreciate the originality of her work anymore without feeling like the whole deal has grown a bit stale with age. An image of precious antique lace doilies and trinkets covered with a fine coating of dust comes to mind. Apologies to Christie's unerring fans. Perhaps I might grow to appreciate her fully again in another quarter century or so.
Review by MissBoyer3
16/06/2015
There's a serial killer on the loose, bent on working his way though the alphabet. There seems little chance of the murderer being caught -- until her makes the crucial and vain mistake of challenging Hercule Poirot to frustrate his plans ...