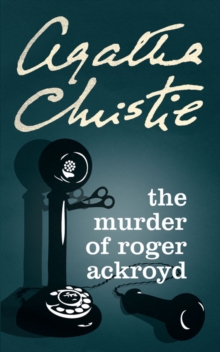 The Murder Of Roger Ackroyd Monocle Edition
Paperback
Part of the Poirot series
Description
Agatha Christie's most daring crime mystery - an early and particularly brilliant outing of Hercule Poirot, 'The Murder of Roger Ackroyd', with its legendary twist, changed the detective fiction genre for ever.
Roger Ackroyd knew too much. He knew that the woman he loved had poisoned her brutal first husband.
He suspected also that someone had been blackmailing her.
Now, tragically, came the news that she had taken her own life with a drug overdose.
But the evening post brought Roger one last fatal scrap of information.
Unfortunately, before he could finish the letter, he was stabbed to death...
Information
Format: Paperback
Pages: 368 pages
Publisher: HarperCollins Publishers
Publication Date: 01/04/2002
Category: Classic crime
ISBN: 9780007141340
Free Home Delivery
on all orders
Pick up orders
from local bookshops
Reviews
Showing 1 - 5 of 8 reviews.
Previous | Next
Review by wendyrey
16/06/2015
Classic Agatha Christie murder mystery .Full of cliches about class and the clever private detective and stupid police.I wonder how much of the drug (cocaine) issue reflects real life at the time or is it just a literary device.A good read.
Review by Ianigsy
16/06/2015
In some ways a classic English country house murder mystery, this book is also something more. Towards the end, the story becomes something more complex as Dr Sheppard's account of events following the murder of Roger Ackroyd take on a more sinister and psychological aspect. Even if you know the twist ending, it's pulled off with such style that it's worth waiting for.
Review by fist
16/06/2015
I hadn't read an Agatha Christie novel since my mid-teens, and I was quite prepared to find this book old-fashioned and trite. To my delighted surprise, the writing is crisp and occasionally tongue-in-cheek, with some great characters, amongst which Poirot in great form (Maggie Smith should be cast as Mrs. Ackroyd if a film is made of this book). As a detective novel, it is a tour de force - saying more would be a spoiler.
Review by akfarrar
16/06/2015
The Ultimate DeceptionAgatha Christie's job, as a writer of Detective Novels, was, paradoxically, to hide the criminal – much like a spiv with the card game, Hide the Lady. Even though the punter aims to find the card – and makes wild guesses (based, of course, on superior talents) the side-show spiv will win every time – maybe it's just a trick, a slight of hand, but we come back again and again in the vain hope of putting one over on the expert.Not much hope, I'm afraid!'The Murder of Roger Ackroyd' has to be Ms Christie's ultimate deception – it certainly had me fooled right 'til the end. No matter where I looked, the Lady was hidden.Up pop all the usual suspects – and with a Christie you know if someone is accused, it isn't them. One by one she knocks out everyone – and I do mean everyone! Surely she hasn't had a total stranger do the murder?No, the wrist works it's magic: Poirot, shows you the superiority of his little grey cells and you loose again.And I can't tell you the secret – I won't spoil the thrill.What I will say is it is beautifully done.Agatha Christie manages here to exploit the genre 'Detective Novel' in a way which relies on the reader's knowledge of all the usual tricks, of lulling them into a false sense of security and then flipping them onto their backs. It is a book to be read rather than a story to be told – and despite the amazing craftsmanship of Granada television's version with David Suchet, it fails precisely because this is not only a story but an exploration of the relationship between reader and writer.Poirot has gone into retirement – Hastings is away in Argentina, Scotland Yard is not involved. A local rich man is the victim of murder (the only one, incidentally in the story – the TV version needed to double the number, bring Inspector Japp in where he wasn't wanted and simplify the plot by removing a couple of key characters). There is blackmail and love, lost wedding rings and phone calls in the night.Poirot, after throwing marrows around, one of which lands in his neighbour's garden and smashes open at the feet of the doctor, is brought in on the sidelines – he hardly features in fact. There is a chair out of place, a man arrested in Liverpool, and the delicate feelings of the local constabulary all to be taken into consideration.And a lot of consideration is being done by a local tribe of Miss Marples. Nosey old women pop up in profusion – and references to the greatest detective of all times can't be avoided: The story is retold by the Doctor whose shoes were splattered – a Watson to Poirot's Holmes.As you would expect, it is the twist and turns of the plot that matter rather than deep characterisation, but to suggest the book is shallow as a result would be to deny the profound insight Ms Christie shows into the psychology of her readership.The term masterpiece has been justifiably applied to the book – and I fully concur.Just make sure you read the book before you see the film!
Review by mauveberry
16/06/2015
I didn't see the twist coming at the end. I think it'll be interesting to re-read the book knowing who the murderer is. I also liked the interesting characters that are portrayed in the story. There were lots of funny moments.