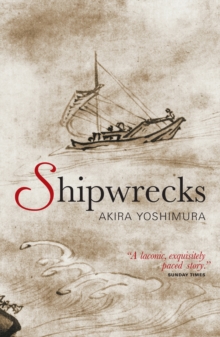 Description
In a coastal village in medieval Japan, a young boy called Isaku battles to keep his family alive against the odds.
With his father gone, Isaku is forced to grow up well before his time.
He must learn how to catch fish, how to distil salt, and about all the mysteries of the vast churning sea, not least the legend of O-fune-sama, of ships wrecked offshore providing the village with unexpected bounty.
When a ship founders on the rocks, Isaku and the villagers rejoice.
Long have they prayed for the sea's gifts. But the cargo is not at all the blessing they hoped for.
At first mystifying, then terrifying, something dark is coming ashore and it's about to change their lives forever.
Information
Format: Paperback
Pages: 160 pages
Publisher: Canongate Books Ltd
Publication Date: 10/01/2002
ISBN: 9781841952215
Free Home Delivery
on all orders
Pick up orders
from local bookshops
Reviews
Showing 1 - 1 of 1 reviews.
Review by SandDune
16/06/2015
It was fairly clear right from the start of this bbok that things were not going to work out well and having finished the book I think I can safely say that this is one of the saddest books I have read in a long time. It's the story of Isaku, a nine year old boy, living in an impoverished fishing village in medieval Japan. Periodically the villagers have to sell themselves or their children as indentured labourers for up to 10 years to keep their families from starvation and the book follows the events of Isaku's life as he struggles to be the man of his family during the three year period that his father is away. The only brightness in their lives is the occasional bounty provided by O-fune-sama or shipwreck, which we learn early on is caused by the villagers lighting fires on the beach to entice ships on to the rocks.At the moment I find it difficult to know how to rate this book. With my knowledege of medieval Japan being absolutely zero I struggled to have a context to put the villagers lives into. They seem to be totally trapped by their environment and constantly on the verge of starvation. I would have liked to have known more about Japan at that period to know if there was any alternative for them. The villagers belief systems are so very different - they believe that to cause the shipwrecks and murder the surving crew is a practice that has been handed down from their ancestors and so must be followed at all costs. This is a beautifully written book and one which I think I might reread - but perhaps after having read somthing about the history of Japan first.