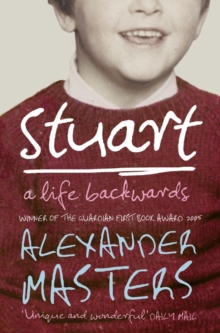 Stuart: A Life Backwards
Paperback
Description
'Stuart does not like the manuscript. He's after a bestseller, "like what Tom Clancy writes". "But you are not an assassin trying to frazzle the president with anthrax bombs," I point out.
You are an ex-homeless, ex-junkie psychopath, I do not add.' This is the story of a remarkable friendship between a reclusive writer ('a middle-class scum ponce, if you want to be honest about it, Alexander'), and Stuart Shorter, a homeless, knife-wielding thief.
Told backwards - Stuart's idea - it starts with a deeply troubled thirty-two-year-old and ends with a 'happy-go-lucky little boy' of twelve.
This brilliant biography, winner of the Guardian First Book Award, presents a humbling portrait of homeless life, and is as extraordinary and unexpected as the man it describes.
Information
Format: Paperback
Pages: 304 pages
Publisher: HarperCollins Publishers
Publication Date: 01/02/2006
Category: Biography: general
ISBN: 9780007200375
Other Formats
EPUB from £5.49
eAudiobook MP3 from £10.39
Free Home Delivery
on all orders
Pick up orders
from local bookshops
Reviews
Showing 1 - 4 of 4 reviews.
Review by thewordygecko
16/06/2015
Review by morag_eyrie
16/06/2015
Quite an amzing book- although I had serious reservations about the bigoted attitudes of the author nthat seeped through into his language. Very glad I read it though; offered me a chance to think about some things I don't think about much. Worries me that people still need to be told that childhood sexual abuse has drastic consequences.
Review by glade1
16/06/2015
Finished this brilliant book today. It is the story of a man who probably shares a lot in common with other homeless men but who has a unique voice and ability to share and contemplate his experiences. The narrative is quite disjointed, switching from the present (the story of the author's relationship with Stuart as they work together on behalf of two shelter workers who have been unjustly imprisoned) to the past and back again, with the chapters on Stuart's past working chronologically backward to his childhood. It was difficult for me to follow at first but I soon found the rhythm of it and came to see it as another way to illustrate just how unstructured and disjointed Stuart's life was.Stuart is a delightful yet concurrently alarming character, swinging from personable and witty to out-of-his-mind violent. His story illustrates the near futility of trying to solve the problem of crime and the homeless. According to the author, Stuart is part of the "chaotic homeless...[who] are beyond repair...What unites the chaotic is the confusion of their days. Cause and effect are not connected in the usual way. Beyond their own governance, let alone within grasp of ours, they are constantly on the brink of raring up or breaking down. Charity staff fuss especially hard over these people because they are the worst face of homeless and, when not the most hateful, the most pitiable extremity of street life."When asked how long he lived in a particular place, Stuart replies, "To be honest, that sort of question don't mean nothing to a person like me. That's what you're going to find difficult to understand. You grew up with order so you're going to want order to explain things. Where, me, anything ordered was wrong. It weren't a part of my days. My life is so complicated it's hard for me to actually say what happened in them days let alone in what order." So Stuart lives a chaotic life but has the intellect to recognize why it is difficult to understand.When Masters met Stuart, the homeless man was living in a flat and receiving medical care. He was off drugs and considered a success story by the government workers who had helped him. After spending a couple of years with Stuart, Masters comments in frustration, "If Stuart is a success story, then it is pointless to imagine that we can ever really help these people without breaking the national budget...The chaotic? It isn't a bedsit and employment that they need; it is a new brain."The actual story of Stuart's life could probably belong to any one of a thousand homeless men. He had violence in his genes from his father, he suffered sexual abuse at the hands of those he should have been able to trust, he was teased and bullied until he "discovered" violence, he sought escape in drugs and drink, he raged at the world. In that brief synopsis, he's almost a cliche. But at the hands of Alexander Masters, who became his friend and who genuinely tried to understand Stuart, his life, and the way of life of the homeless, Stuart becomes a tragic and poetic character.The power of Stuart's story is in the telling and in putting a single unique face to the homeless. It is heartbreaking and hopeless but has flashes of great hope and humor. I highly recommend it.
Review by WWDG
16/06/2015
There is not alot I can say about this book that has not already been said by other people on this site except to say that it is the only book that I have ever finished with tears streaming down my face! At the beginning of the book i really disliked Stuart but as I got further through the book I was drawn to his character and what had happened in his life to make him the way he was. I would reccomend this book to anyone who has ever looked down on a homeless person - you don't known what caused them to be in that situation.