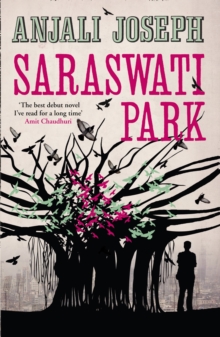 Description
A tremendous first novel from an exciting young author. Feted for its electric chaos, the city of Bombay also accommodates pockets of calm.
In one such enclave, Mohan, a middle-aged letter writer - the last of a dying profession - sits under a banyan tree in Fort, furnishing missives for village migrants, disenchanted lovers, and when pickings are slim, filling in money order forms.
But Mohan's true passion is collecting second-hand books; he's particularly attached to novels with marginal annotations.
So when the pavement booksellers of Fort are summarily evicted, Mohan's life starts to lose some of its animating lustre.
At this tenuous moment Mohan - and his wife, Lakshmi - are joined in Saraswati Park, a suburban housing colony, by their nephew, Ashish, a diffident, sexually uncertain 19-year-old who has to repeat his final year in college. As Saraswati Park unfolds, the lives of each of the three characters are thrown into sharp relief by the comical frustrations of family life: annoying relatives, unspoken yearnings and unheard grievances. When Lakshmi loses her only brother, she leaves Bombay for a relative's home to mourn not only the death of a sibling but also the vital force of her marriage.
Ashish, meanwhile, embarks on an affair with a much richer boy in his college; it ends abruptly.
Not long afterwards, he succumbs to the overtures of his English tutor, Narayan. As Mohan scribbles away in the sort of books he secretly hopes to write one day, he worries about whether his wife will return, what will become of Ashish's life, and if he himself will ever find his own voice to write from the margins about the centre of which he will never be a part.
Elliptical and enigmatic, but beautifully rendered and wonderfully involving, Saraswati Park is a book about love and loss and the noise in our heads - and how, in spite of everything, life, both lived and imagined, continues.
Information
Format: Paperback
Pages: 272 pages
Publisher: HarperCollins Publishers
Publication Date: 08/07/2010
ISBN: 9780007360772
Free Home Delivery
on all orders
Pick up orders
from local bookshops
Reviews
Showing 1 - 1 of 1 reviews.
Review by stillatim
16/06/2015
It took me a while to get into this, but it's well worth it. S Park is a much better defense of the realist novel than Franzen's Freedom, for instance; it packs the same emotional weight into a third of the pages (and, at a guess, a quarter of the words). Like 'Freedom,' the book has a bit of a chip on its shoulder: while Franzen talks a lot about Tolstoy, Joseph's particular reference is Henry James, and there's some great, gentle parody of the modernists (James Joyce as captain of the pick-up cricket team, menacing the younger boys). I'm curious to know how much the media representation of this as a kind of anti-Magical Realism polemic is based on Joseph's actual feelings, and how much of it is just good marketing aimed at people who, like me, can't really be bothered trudging through 600 page novels about the 'color' and 'exoticism' of the sub-continent. Certainly you could read the novel as precisely that kind of polemic; but maybe it's not. <br/><br/>And if you don't care about that, it's just a lovely book full of the minor domestic dramas that we all live through, and an all too rare instance of a well-written book that suggests family life isn't there just so the young have something from which to escape. There are very, very few false steps in the prose, and one or two wonderful moments- particularly the paragraph which gives the book its cover in this edition. Certainly the writing isn't ambitious, but since so many young authors torture language in order to express nothing, I'm fine with that.